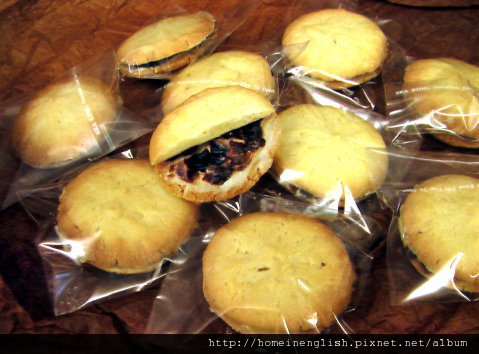 Makes 20
Ingredient
100g Raisin
1/3 cup Rum
280g salted butter
100g Icing powder
20g dried milk
1 whole egg
180g plain flour
60g Corn Starch
2tbsp water
Making process
1) Soak the raisins in the rum and leave for several hours. Cut into small pieces and set aside.
2) Let butter at the room temperature and sift the icing sugar. Mix the butter, icing sugar and dried milk together in a bowl until creamy. Proportion the mixture into 1/5(80g) and 4/5(320g) and placed separately. Set aside the 1/5 later used for the filling.
3) Add egg into the 4/5 and mix well together but do not over mix.
4) Sift the flour and corn starch together into the mixture and stir gently, then add the water until smooth.
5) Transfer the batter to a piping bag fitted with round nozzle. Pipe balls for approximate 40 units. Remember to space them apart as they would spread out while baking.
6) Preheat the oven to 160C. Place the baking tray on the top shelf of the oven for about 15 mins. Bake until golden brown, then remove the biscuits and cool.
7) Sandwich with some filling and raisins. Serve after refrigeration.
Notes
The used of unsalted butter, requires to add extra 1/3 tsp of salt.
The batter contains a lot of butter which is unnecessary to line with baking parchment or brush oil on the baking tray. Therefore, the biscuits would not stick to each other.
You could use a tablespoon instead of the piping bag. However it requires flattening each biscuit to avoid the uneven thickness.
They are many variation can be made with this biscuit, such as changing the flavor of filling or appearance and the shape.
The diagram below shows some possible variations; piping into a flower shape, and drip some melting lemon chocolate in the middle of the biscuit. You could also use the strawberry chocolate or milk chocolate as your preference.
Nevertheless, this kind no need the butter filling, so we would vary the second part of the original ingredient to:
224g salted butter
80g icing sugar
16g dried milk