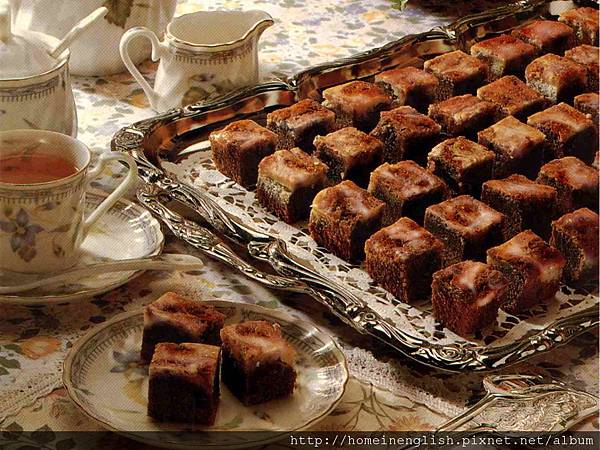 Ingredients
Cream Cheese mixture
200 g / 7 oz cream cheese
40-45 g/ 8-9 tsp caster sugar
1 egg white (medium or large)
Chocolate mixture
175 g/ 6 oz/ 3/4 cup butter
290 g dark chocolate
140 g caster sugar
3 eggs (medium or large)
128 g/ 4.5 oz/ 1 1/8 cups all purpose plain flour
32g/ 4 tbsp corn flour
Steps
1) Grease an 8.5 or 9 inch square shallow cake tin (pan) and line the base.
2) Beat together cheese and sugar until well blended. Add egg white; mix until well blended.
3) Place dark chocolate in a large mixing bowl with butter and set over a saucepan of gently simmering water until melted, stirring until well blended.
4) Remove the pan from the heat, stir in sugar (140 g caster sugar) and mix well.
5) Add 3 eggs; one at a time and beat well after each addition.
6) Sieve the flour and corn flour together and fold into the chocolate mixture. (Stir in nuts if desired/ blend them well but don't over do it; it's better to use a metal spoon or a spatula)
7) Pour half of the Chocolate mixture into the tin (pan) and level the top.
8) Spread cream cheese mixture over it. Carefully spread remaining chocolate mixture over cream cheese mixture. Gently swirl with a spatula, knife or fork for marbled effect.
9) Bake in a preheated oven at 170℃ for 40 to 55 minutes or until brownie begins to pull away from the edges of pan. (or until the cream cheese mixture is lightly browned)
10)Cool in the tin; cut into squares to serve.
* I prefer using large eggs
* If you want to keep the cream cheese mixture on the top white, cover the brownie with kitchen foil in the middle of backing.