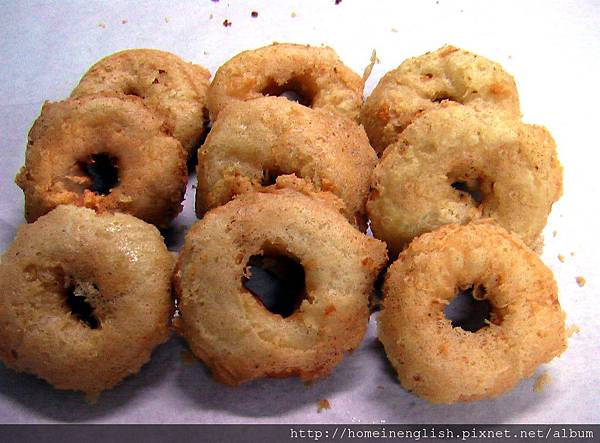 Basically, Crispy Doughnuts is just like normal yeast doughnuts but it has a crispy wrapping coats it. It's just so delicious that makes it almost addictive!!! But just be aware it remains lots of Calories. Don't eat too much if you are on a diet!!
Crispy Doughnut: (makes approximately 12 doughnuts)
Ingredients:
Dough:
Milk 150g
Instant Yeast 1tsp
All purpose/ Plain Flour 160g
Cake Flour 160g
Baking powder 1/2 tsp
Sugar 45g
Salt 1/2 tsp
Egg 1
Crispy Wrapping:
Water 100g
Soy oil 60g
Cake Flour 80g
Baking Powder 1/2Tbs
Salt 1/4 tsp
Oil for deep-frying
Sugar for coating
Method:
1. Mix all ingredients of dough part with an electric mixer or food processor at slow speed until it forms a sticky ball (add ingredients as the order above.)
2. Increase speed to medium, process until the dough is smooth. (Notice: If you knead it with hands, don't add more flour just because the dough is wet or sticky!)
3. Cover it. Place in a warm spot. Let it rise for 2.5 hours.
4. Place the dough on a floured surface and sprinkle some flour on it. Roll it into a 1cm thick piece.
5. Let it rest for at least 10 minutes. Cut it with doughnut cutter into 8-9 doughnuts. Gather the rest of dough, roll it and cut it again. You can use the rest of dough to make a twisted, it also can be risen then deep-fried.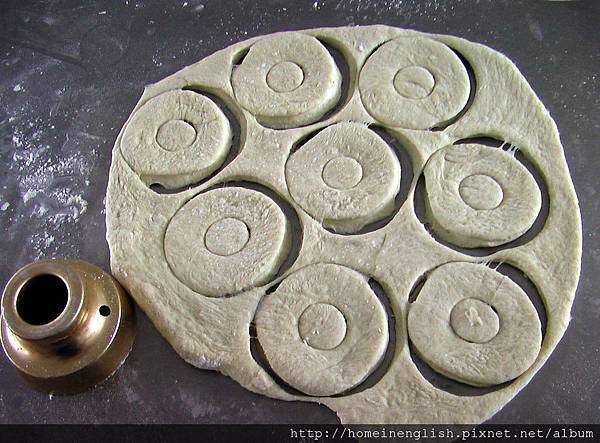 6. Set each doughnut on a small piece of floured baking paper. Place them in a warm spot and let it rise for 50 minutes or until it doesn't spring back when you press it.
7. Mix the ingredients of the wrapping mixture well. Heat half of frying or wok of oil.
8. Take a doughnut with baking paper. Let the doughnut slip into the mixture. Let it's coated by mixture well.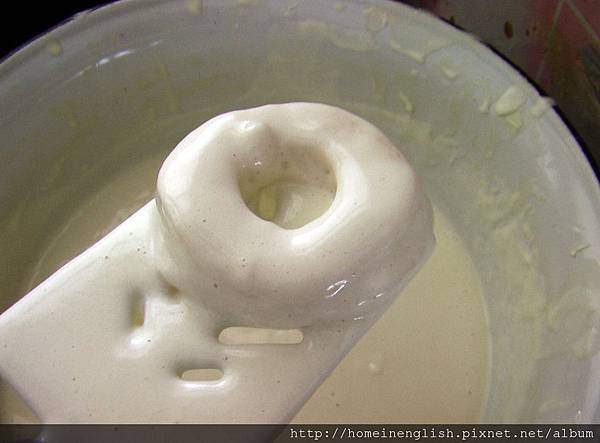 9. Use a spatula(cooking-shovel) to take doughnut out. Let it slowly slip into the hot oil. Deep-fry with small flame for three minutes or until it's golden brown on each side. Drain it. Roll it in sugar. Serve.