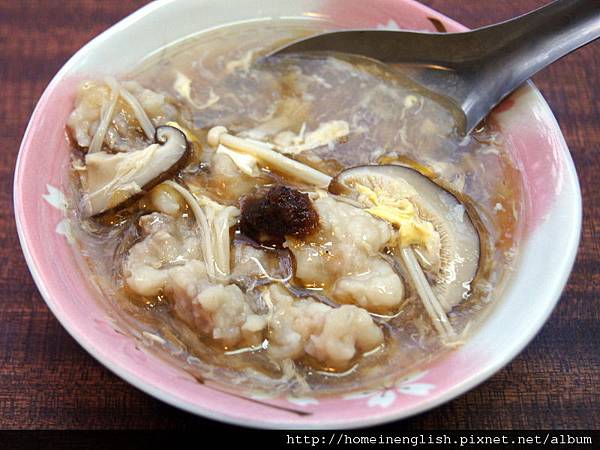 This recipe is all about using good quality ingredients to make the meat dumping soup: pieces of pork dipped in homemade fish paste swimming in a warm hearty soup. Please refer to recipe 92 for homemade fish paste. Please note that water is eliminated from recipe 92 to make the fish paste for this recipe (sweet potato powder and other condiments are still necessary). Fish paste with water is more suitable for frying like Taiwanese tenpura; waterless fish paste holds its texture better while cooked in soup.
Ingredients
Meat dumpling:
Pork shoulder – 600 g
Salt – 1 teaspoon
Sugar – 1 tablespoon
Black (or white) pepper, chili powder – to taste
Fish paste (w/o water) – 600 g
Fried shallot – 2 tablespoon (sold in Asian supermarket)
Soup base:
Dried shitake mushrooms – 4 (see note 1)
Water – 2 liters (0.53 gallon or 67.6 oz)
Dried Benito shavings – 1 palmful (sold in Asian supermarket)
Enoki mushroom – 200 g (sold in Asian supermarket)
Julienned carrots – 80 g
Salt – ½ tablespoon
Sugar, soy sauce, Taiwanese black vinegar – 2 tablespoons each
Sesame seed oil – 1 tablespoon
Black (or white) pepper – to taste
Tai bi powder (or corn starch)– 40 g
Eggs – 2
Barbecue sauce (note 2), chili oil, and cilantro – to taste
Steps
1) Use the tip of the knife to cut the tendons every 0.2 inch on the pork shoulder. Pounding the meat doesn't tenderize the tendon so slicing/cutting is better (while the tendon is still part of the meat) to make the meat tender.
2) Cut the meat into small strips (about the size of the little finger). Now pound the meat to tenderize (note 3).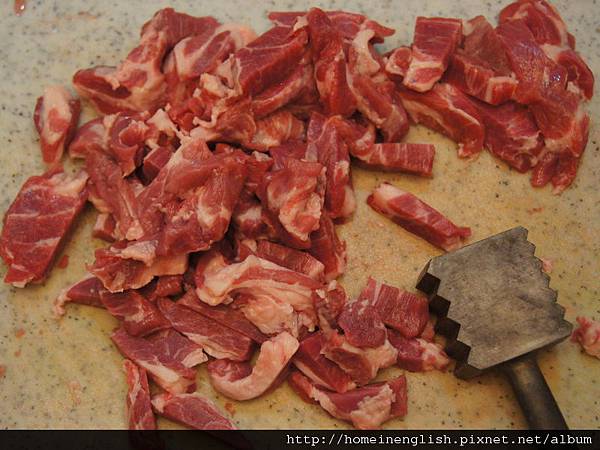 3) Add salt, sugar, black (or white) pepper, and chili powder to the meat then combine everything. Let it marinate for at least 1 hour.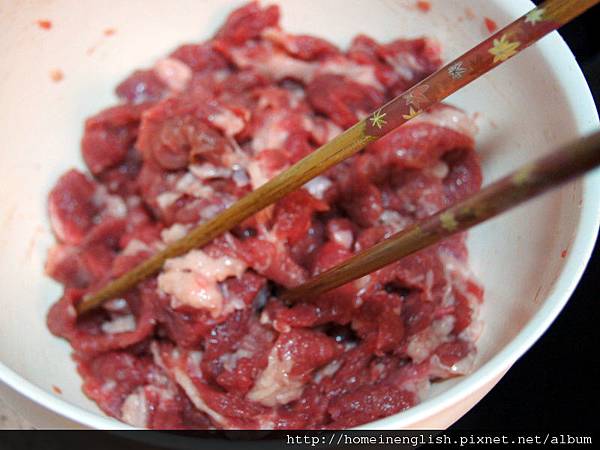 4) Boil half a pot of water. Add fried shallots to the fish paste and mix well.
5) Dip the marinated pork shoulder strips into the fish paste (make sure it is well covered), drop them into the boiling water. The meat dumpling is cooked when it rises to the top.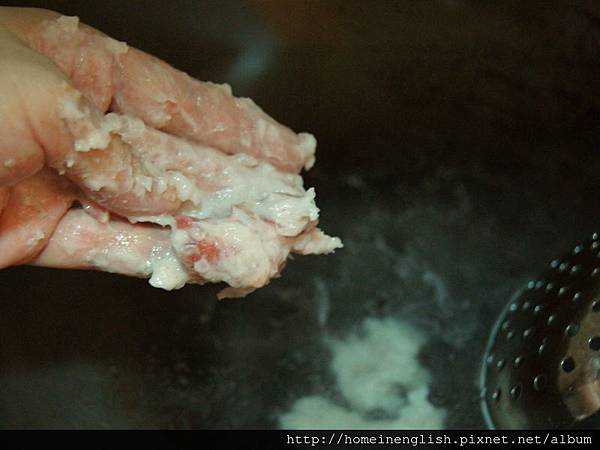 6) Remove the meat dumplings with a slotted spoon. Set them aside.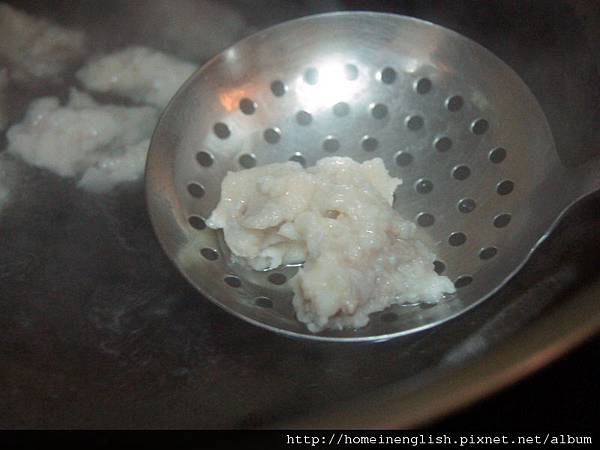 7) Soak the dried shitake mushrooms until softened. Julienne the mushrooms.
8) Make the soup: add the first 9 ingredients to the pot and bring it to a boil. Mushroom soaking water and the meat dumpling cooking water (as part of the 2 liters of liquid) can be used in the soup.
9) Taste the soup at this point. If it is seasoned to your taste, thicken it with tai bi powder (tai bi powder diluted with a little bit of cold water).
10)Stir the soup and add the beaten eggs at the same time. Keep stirring until the eggs flakes into pieces.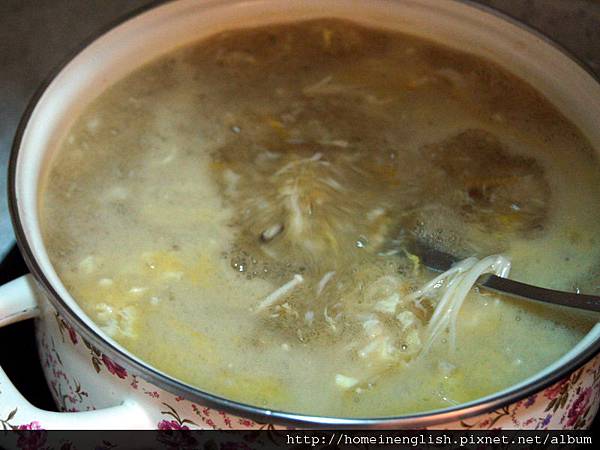 11)Add the meat dumplings and bring the soup back to a boil.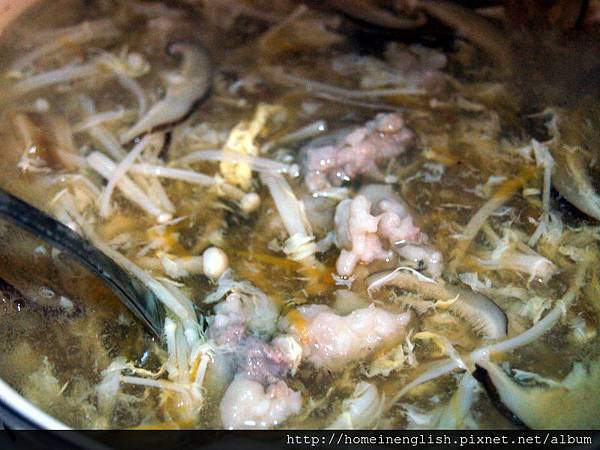 12)Depending on what you like, add barbecue sauce or chili oil and cilantro. Serve while warm.
Note 1:
you can use black fungus instead of shitake mushrooms. You may also add Napa cabbage, bamboo shoots, and daikon.
Note 2:
sold in Asian supermarket and see picture below.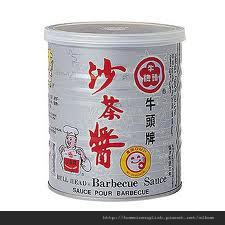 Note 3:
if you don't want to pound the meat, you can buy the pre-sliced frozen pork for hot pot (sold in Asian supermarket). Marinate then dip in fish paste. It is more convenient and the meat is very tender. The only downside is that it is slightly more expensive.
It is also a favorite to add cooked rice vermicelli, mung bean vermicelli, or oily noodles to the meat dumpling soup. It also tastes great with rice! You may also fry the meat dumplings. It is very similar to Taiwanese tenpura but with meat in the center. Kids usually love the fried version.
If this big pot of meat dumpling soup is too much for one meal, you can still prepare the soup as instructed. Take out what you need for the meal and add the appropriate amount of meat dumplings. You want to store the soup and meat dumplings separately because meat dumplings will become very soggy being soaked in water for long periods of time.