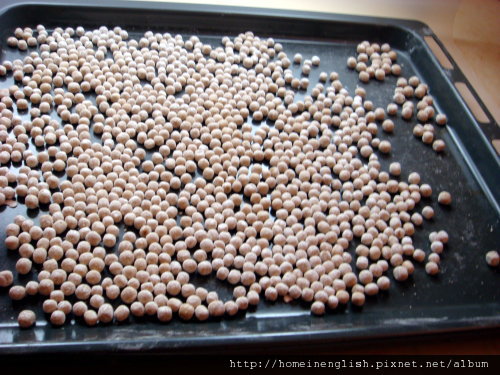 Three years ago, I posted the recipe "Safest and Cleanest Pearl Milk Tea", and a lot of friends must have eaten a stomach full of square pearl tapiocas. The square pearls are tasty but I am still interested in the method of making them round. It is not easy to follow the traditional method, and I also didn't get a good outcome. As the result, Mr. Chou's innovative power had to come out with ideas for everybody to make round pearls easily.
In this article, I used potato starch as the main ingredient because it is easy to get. You can also use tapioca starch or cassava starch.
Brown Sugar Tapioca Balls (serves 8)
Ingredient:
Brown sugar ............... 70g
Water........................... 130g
Potato starch.................200g
Hand powder (potato starch)....... some
Steps:
1) Adding brown sugar into water, bring to boil. (in summer time, just to the degree that it's almost boiling)
2) Immediately, pour the syrup into the potato starch, and stir evenly. make it into a dough as soon as it's not hot.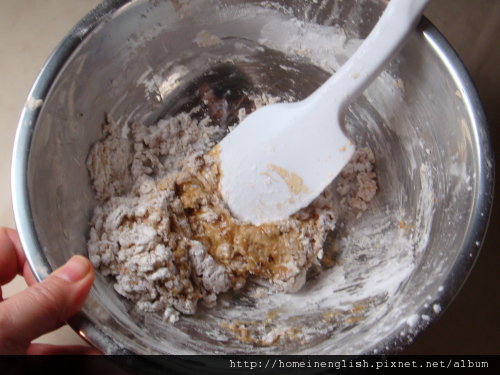 3) It will not be too sticky when completely cooled down. Sprinkling some hand powder, roll out the dough about 0.7-0.8cm thick.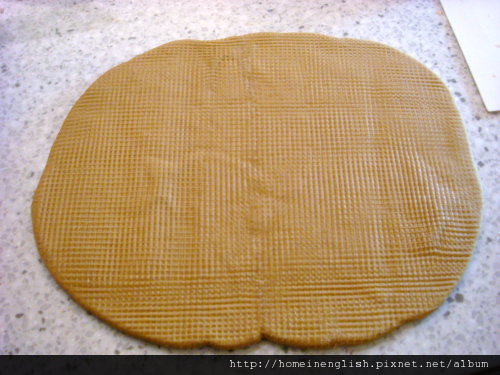 4) Cut into 0.7-0.8cm strips. separate each one after cutting to avoid sticking.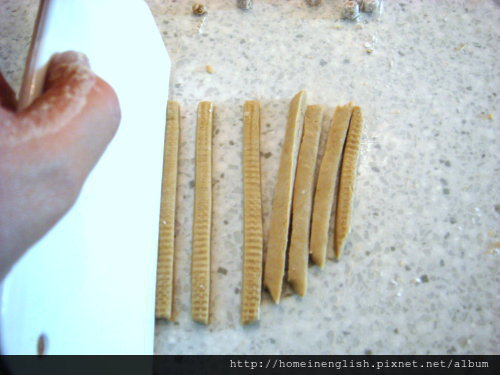 5) Sprinkling more hand powder, cut the strips into squares.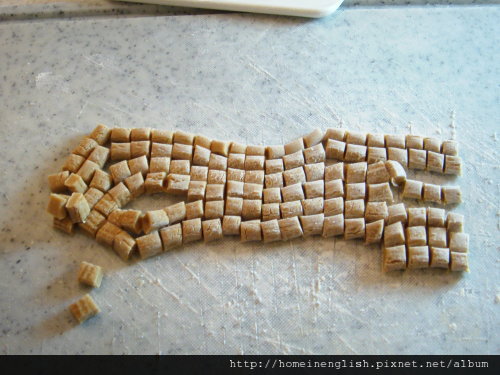 6) Sprinkling more hand powder again, stir, and rub with two hands to roll the squares into balls. Make about 400g tapioca balls. ( suggest rubbing the balls on rough surface such as a wooden board. The counter top and surface of the dining table at my house are both too smooth, so I had to rub mine on my cutting board.)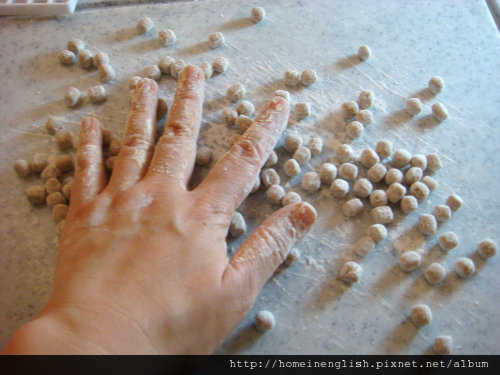 7) The tapioca balls are ready for immediate cooking. It's about 50g of tapioca balls per serving.
8) In boiling water, pour in tapioca balls, slightly stir to avoid sticking to the bottom, bring simmer to low for 3 minutes. If serving with ice, it is necessary to boil for more than 10 minutes. The tapiocas need to absorb water to become soft, then you can drain the water.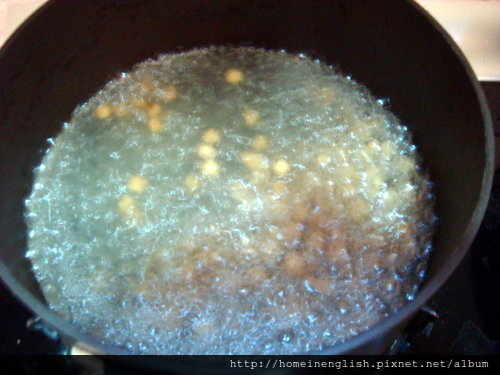 9) Drain, add brown sugar (add 8g brown sugar per serving), then it's ready to serve.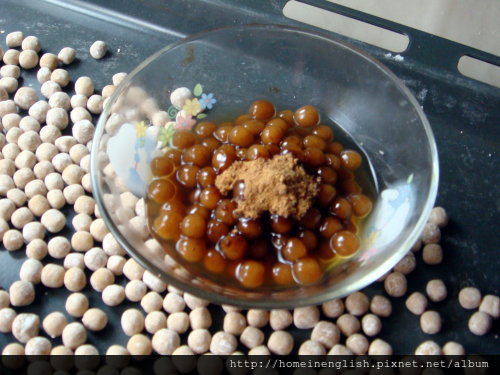 10)Adding milk tea is the most common way of eating it.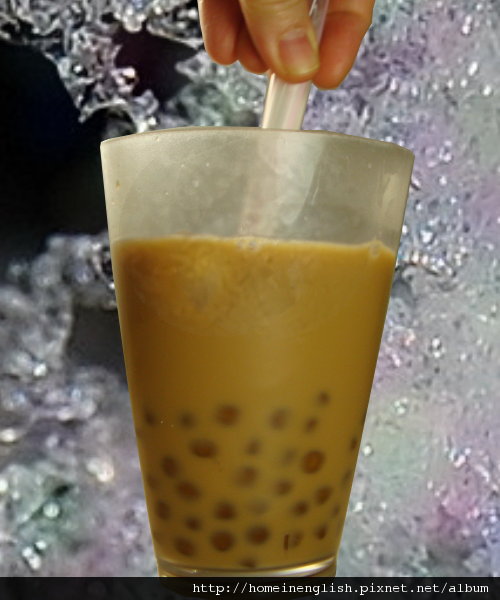 11)If not cooking them right away, I suggest letting them dry before refrigerating. When the weather is dry and ventilation is good, spread them on a baking sheet or big flat plate. It will dry the next day. Store them in a sealed box and then refrigerate or freeze. ( The dryer the tapioca, the longer you need to cook)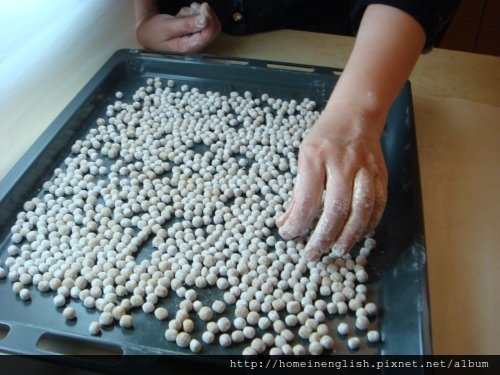 PS.
The commercial tapioca balls don't store in refrigerator or freezer; they must be totally dried by setting off or baking, or they will become moldy very quickly. Moreover, if there is a problem with the packing technique, it will still become moldy even if it's totally dry. In this case, preservatives may have to be added.
The totally dried tapiocas are the toughest to cook. It has to be cooked for more than half an hour, and then braised for another half an hour. After draining the warm water, we have to rinse them quickly in cold water to prevent muddy and sticky surfaces. In the other hand, homemade tapioca balls are complicated to make but it is easier to cook. No matter how you cook it, it won't taste raw and the surface is smooth. It is worth the effort, and also eliminates the hesitation about the preservatives.
There are two major problems to solve in rubbing tapioca balls by ourselves to achieve efficiency. First, the dough has to contain perfect moisture (gelatinization), and second, a perfect wire cutting tool to cut them equally.
At step 2, when adding the syrup into the potato starch, if the temperature of the syrup is too low, the dough will become too watery (under-gelatinization) and it will be impossible to cut ( it will keep changing shape and sticking to each other). In this situation, return the dough to double boiler or microwave a little bit to make it warmer.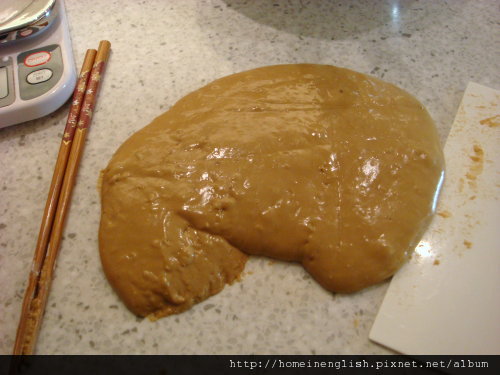 If it is over-gelatinized, the dough will become stiff and look almost cooked. In this condition, once cutting it into square, they will stay as squares. These are perfect "square pearl tapiocas"- the famous of Mrs. Chou. The photo below is the over-gelatinized ones. I couldn't rub them into round balls. They break when I use some force to rub.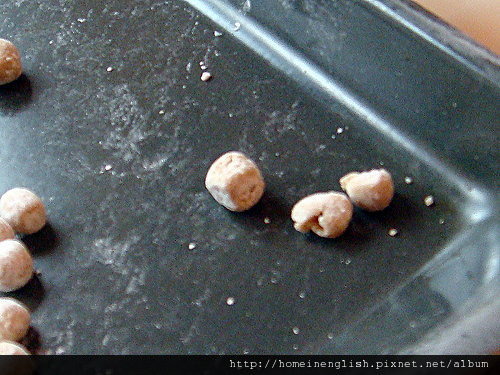 Anyway, as long as you practice for couple of times, you will be able to get the appropriate gelatinized dough. Rubbing tapioca balls will then become fun and easy. If you got a surface that's big enough, you can make 400g tapioca balls at once!!
The only labor intensive step of my method is cutting the dough. Even though it is probably easier than the square tapioca recipe, it is still time consuming and most people without professional cutting training usually make balls of uneven sizes.
If we have a dividing tool that can divide into evenly little 0.7-0.8cm small squares, it will be very convenient such as the wire cutting net used by the places selling jello.
The photo below is a product that I use to cut my small rice dumplings (see how lazy I am?). It is originally a mat that prevents the hot bottom of the pot from touching the table. However, it is 1.2 cm square per little unit, so it is too big for tapioca balls. I am going to find a factory to help me custom make the perfect cutter. Is anyone interested?