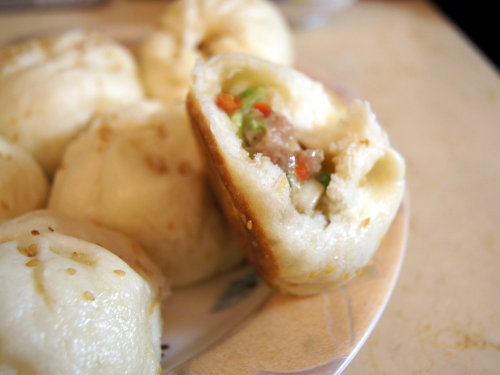 My version of spicy spring onion steam-fried baozi is with great volume of spring onions and hot chilis. The sayings says "January spring onion, February Chinese chive", although it is not with scientific data, at least it is the season for spring onion now, seasonal vegetable is with the best taste.
Hmm.. I found a new vegetable in the market recently which looks like a distorted pineapple putting for decoration during New Year period. It is very interesting that it's named "Lishan doll vegetable" by street vendor, but I think it tastes not like Chinese cabbage but leaf mustard ; texture is awesome, crunch, tender and juicy with a bit of bitter feel on its bud. I bought three smalls and one big one which really look like pineapple, so impressive.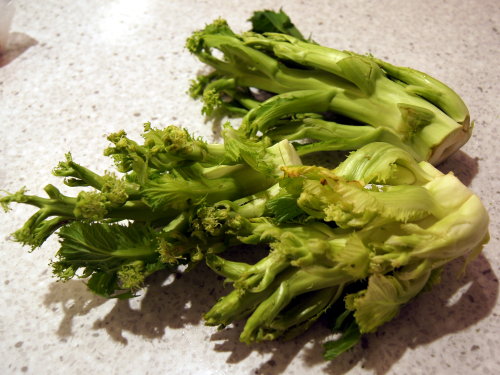 Steam-fried baozi came from "Steam-fried buns" from Suzhou & Shanghai of China ─ Chinese bun has stuffing served originally, Zhuge Wuhou (was a chancellor of Shu Han during the Three Kingdoms period of Chinese history) who used beef and mutton wrapped instead of human head for offering sacrifices during the war. Apparently Zhuge Wuhou was smart to create the idea of baozi.
Steam-fried means not steam with big hot boiled water but fry directly, which is like 「Stir-fried cuttlefish」a famous dish from Taiwan night market, directly fry cuttlefish without massage with hot boiled water first in order to keep the original flavor of food. However, it is a little bit hard to control optimal heat for steam-fried, some restaurants try to advertise them for better controlling of optimal heat to get better quality of steam-fried baozi in order to show off.
Actually, steam-fried baozi is easy than steamed version, not to get wrinkled in skin, only need to watch out the heat not too big to get baozi burn. Besides, it is so delicious, I make 28 big baozi each time but still not enough for my family.
Spicy spring onion steam-fried baozi make 28 175kcal for each
Skin dough ingredient:
Water 350 grams
Instant dry yeast 1 table spoon
All purpose flour 700 grams
White sugar 70 grams
Salt 1/2 tea spoon
Vegetable oil 30 grams
Stuffing ingredient:
Minced pork 600 grams
Soy sauce 1.5 table spoons
Sesame oil 1.5 table spoons
White sugar 2 tea spoons
Salt 3/4 tea spoon
Chopped hot chili moderate
Spring onion, minced 300 grams
Vegetable oil for frying moderate
Sesame, stir-fried moderate
Steps:
1. Put the Skin dough ingredients into a large bowl, knead into forming and smooth.
2. Cover the bowl and keep in a worm place (28 °C/82 °F) for an hour.
3. Put minced pork into a bowl with soy sauce, sesame oil, white sugar and salt, stirring for couple minutes till forming and sticky. Mix into chopped hot chili and minced spring onion.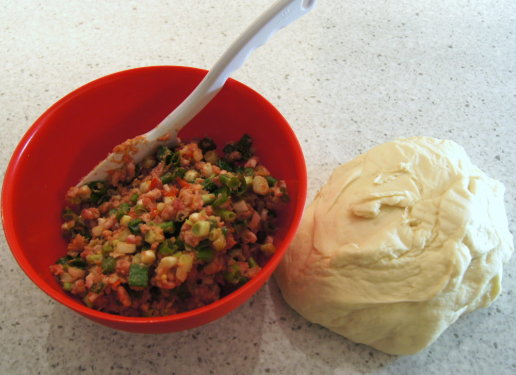 4. Take the skin dough out from the bowl, cut to 28 small rolls, 41-42 grams each. Set the dough rest for few minutes if it is hard to handle each time.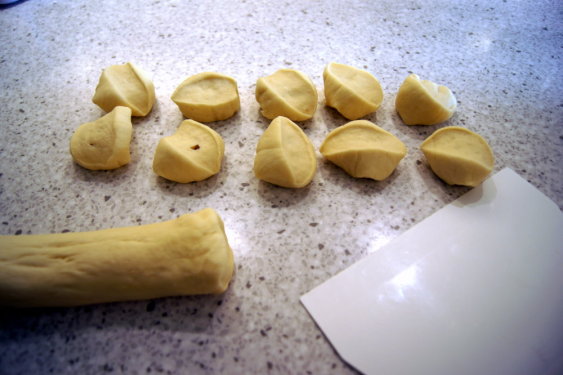 5. Press each small roll into round flat shape, wrap about 35 grams of stuffing ingredients. Put it into a tray with greasing paper.
6. Keep the tray in a warm place (38 °C/100 °F) for final fermenting about 20~30 minutes until the skin dough became very soft and tender. Tip: Put the baozi rolls tray into oven with a bit hit on or a tray of hot water under are able to help dough rising.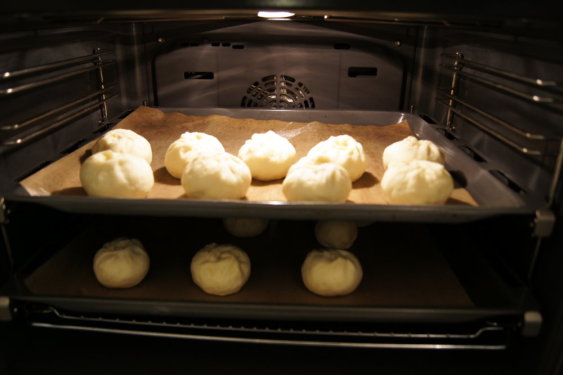 7. Flat pan with heat, add few vegetable oil, put into baozi rolls, don't arrange too crowded.
8. Sprinkle some sesame. If the baozi roll surface is too dry then spray a little water before sprinkle the sesame.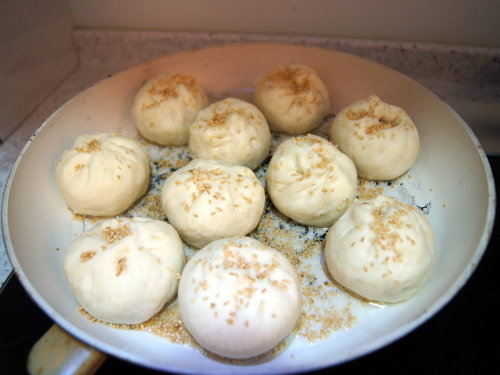 9. Put the pan cover on and fry for 3 minutes. Turn the bottom of baozi roll and see if it turns golden brown, make sure the heat is about right.
10. Sprinkle half cup of water into the pan, put the cover on again and fry for another 8 minutes.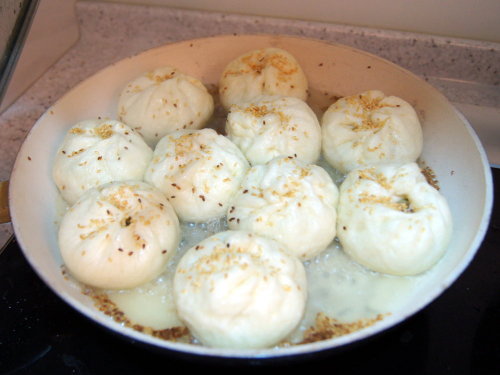 11. Until water is being evaporated, sesames on the bottom start dancing, than the bottom side of baozi skin turned crunch and crispy.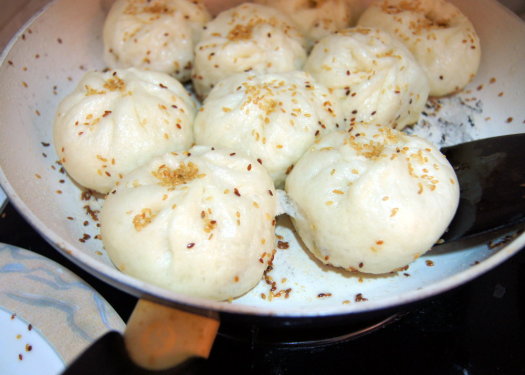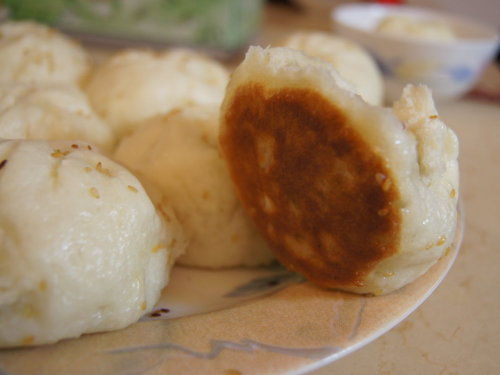 12. Turn off the heat and take off the Baozis. Serve hot or worm, add some soy sauce or hot chili sauce if you like.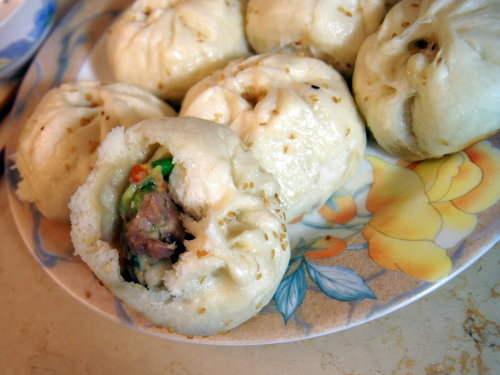 Remark:
This material makes into 28 steam-fried baozi , because generally a flat pan is about to fry 7 rolls at a time. If you want to do it in a little bit smaller size then divide the dough into 30~32 rolls, even more.
The hot chili is optional, depends on family favorite, change the stuffing with Chinese chive dumpling can also work, try it.
Deliver the rising baozi roll into the pot tenderly, it is very soft at this time, don't knead or you will transform it. If the pot cover is very airtight, half cup of water won't evaporate within 8 minutes, turn the heat bigger to evaporate water out and puts less water next time.
The Golden brown skin with crunch and crisp taste is the fun part of steam-fried baozi, if you like more crispy skin then fry two side of baozi skin. A student asked me before: "Why the way you teach the steam-fried baozi looks more like baozi? " I couldn't figure out what the question is? Stream-fried baozi is baozi, then I know later that the baozi in southern part of Taiwan is with both top and bottom steam-fried which looks more like xianbing (Chinese meat pie).