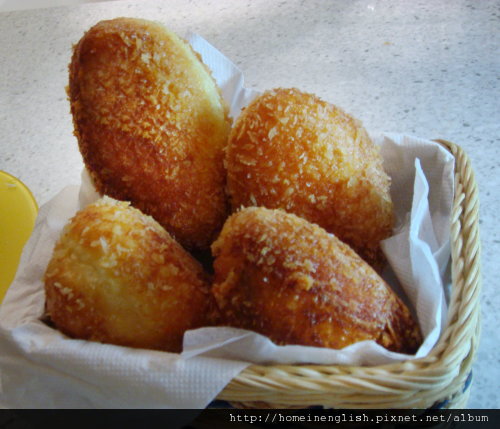 Crispy Q frying bread make 12 servings
Ingredients:
dough:
milk 180 g
instant dry yeast 1 teaspoon
bread flour 160 g
all purpose flour 160 g
fine sugar 50 g
salt 1/2 teaspoon
egg 1
fillings:
curry paste filling 1 (420 grams)
or
preserved mustard greens filling 1 (420 grams)
flour, egg, bread crumbs a little
Directions:
1. Add dough ingredients as stated as above order to the mixer, set in high or medium speed until it expanded. The dough should not be too wet or soft, and it should be slighty sticky due to no oil added.
2. Cover, place in a warm place (28℃) and ferment for 40 minutes.
3. Prepare the filling, frozen until cool, divide into 12 portions and each should weight about 35 grams.
4. The dough should also divide into 12 portions and each should weight about 50 grams.
5. Roll (round) and flatten the dough, if necessary, tip some flour on hand to avoid stickiness.
6. Put the filling, fold it tight without making the pleat.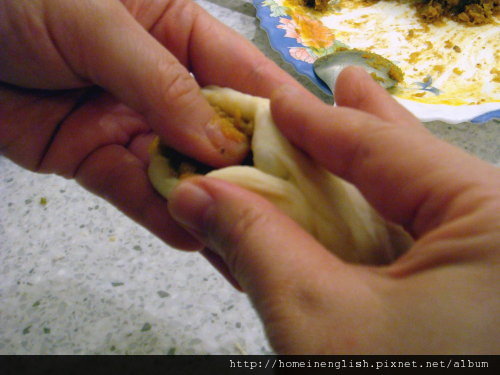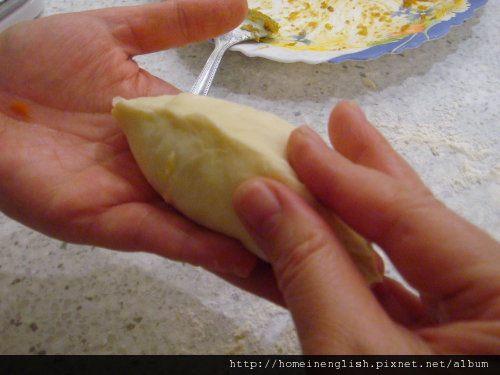 7. Tip some flour and pat it dried.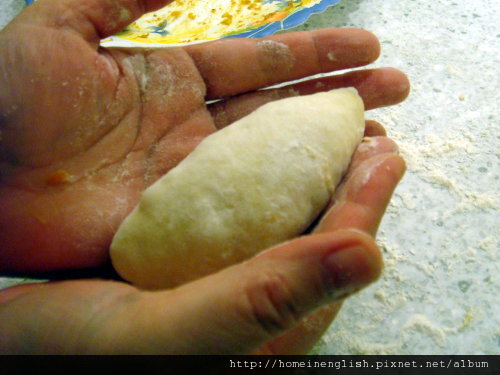 8. Dip some egg.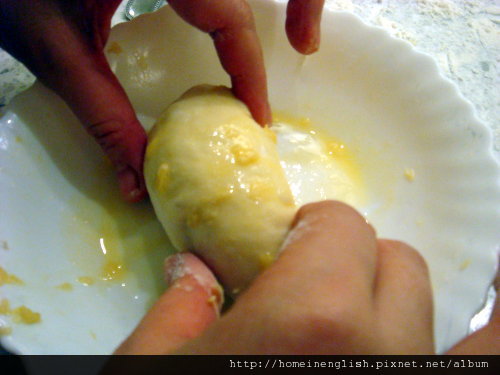 9. Cover with bread crumbs.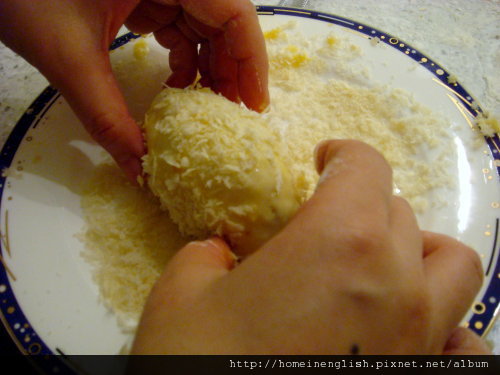 10. Lay them on the tray in warm place (38℃) for a final fermentation about 40 minutes. If it is completed, when you gently press it; it should not pounce.
11. Heat the oil, slide the dough gently into the pot, set in low heat and fry for 3 to 4 minutes.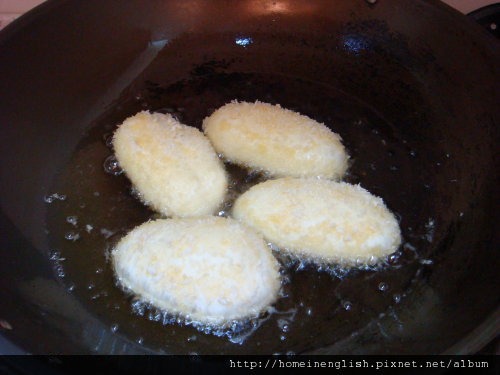 12. Flip and fry for another 3 to 4 minutes until both sides turn beautiful golden brown.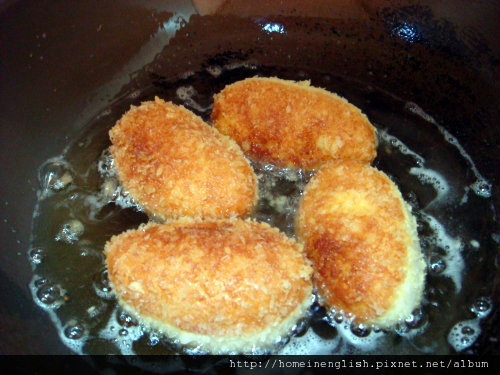 13. Pick up, place them on a paper towel (absorb oil) and serve them hot.
~~~~~~~~~~~~~~~~~~~~~~~~~~~~~~~~~~
Curry paste fillings make 12 servings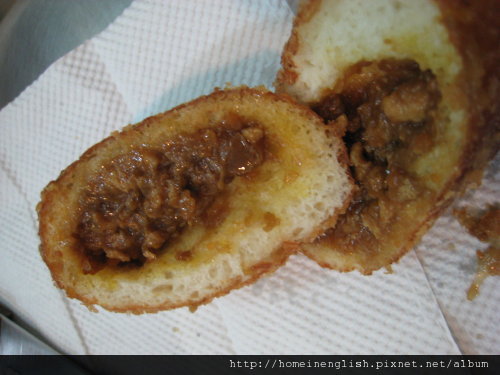 Ingredients:
onion 1 (small)
carrots half piece
butter 30 g
ground pork 200 grams
Vermont curry 2~3 pieces (blocks)
water 160 g
Directions:
1. Chopped onions and carrots with or without food processor.
2. Heat butter, stir fried chopped onion in medium heat until turn gold yellow; when the liquid is reduced, lower the heat, cook about 10 minutes.
3. Add chopped carrot and stir for a while and add ground pork until it fully cooked.
4. Add water and curry, stir fry until the curry is melted and they became thicken.
5. Place it on the plate and air cool.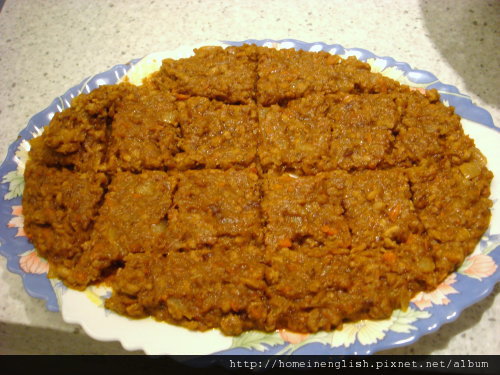 Note:
You could use other brand of curry or you could make your own, whatever taste best for you. You could also use other ingredients, make sure it is very thicken, if not, once it is cooled, it will be too soft to use as a filling.
~~~~~~~~~~~~~~~~~~~~~~~~~~~~~~~~~~
Preserved Mustard Greens fillings make 12 servings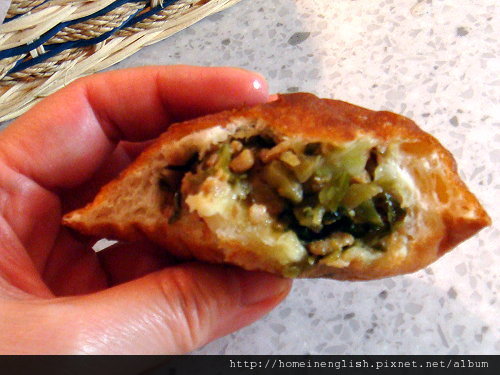 Ingredints:
preserved mustard green 300 grams
red hot chili peppers 1 piece
vegetable oil 2 tablespoons
ginger couple pieces
ground pork 200 g
sugar 50 g
Directions:
1. Wash preserved mustard greens, peel off and soak in water until it does not taste too salty.
2. Squeezed, chopped and also chopped the red hot chili pepper.
3. Heat oil, fry the ginger and then pick up.
4. Add chopped preserved mustard greens, ground pork, red hot chili pepper and sugar, stir fry until cooked.
5. Place it on the plate and air cool.
Note:
Curry paste filling is easy to fold (dumpling) when it cooled off. Preserved mustard green filling is not, it will be loosened and difficult to fold. In the end, it will be wet and is much harder to fold, just filter the extra liquid and then refold (dumpling).