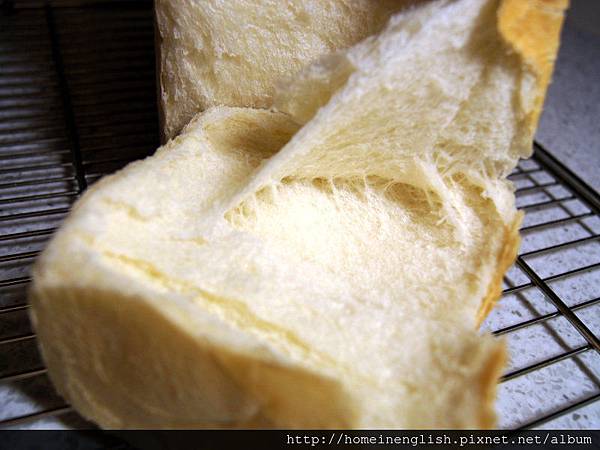 My family usually enjoys slices of milk-flavored white bread or brioche on its own without any spread on them. Occasionally, a little bit of honey is spread on the slices of bread to be enjoyed as a sweet treat. I have always felt that using these slightly sweet and milk scented bread to make sandwiches is counterintuitive because the flavors other ingredients tend to muddle the bread flavors.
People's taste buds and the sense of smell have long been numbed by the artificial flavorings used in mass produced products such as breads. My students often ask me why homemade white bread or brioche loaf is not as flavorful as what's sold in the bakery, how come homemade mayonnaise doesn't taste as good, or how to eliminate the egg flavor in the bread.
To be honest, I never understood the logic behind these questions. Homemade breads and mayonnaise develop natural and delicious flavors. Many products sold on the market rely on the exaggerated flavors from shortening to entice your taste buds. You may like such flavor but you should not equate this artificial flavor to deliciousness.
Homemade white or wheat bread has natural flavors and doesn't interfere with other ingredients in a sandwich. So it is the best choice for making a sandwich.
White bread also develops this lovely chewy texture which everybody loves and enjoys. This chewiness can be seen when the bread is pulled open into long strands.
Traditional white bread tastes a bit salty. Since it is made of bread flour without milk to whiten it, the bread usually presents a slight yellowish gray color inside. To eliminate this problem, I made two loaves: one with a little bit of white vinegar and the other one with some yogurt (substituted half of the water with yogurt). Both vinegar and yogurt can whiten the bread. Along with good quality bread flour, the result is a beautifully colored loaf of bread. One loaf has the normal amount of salt while the other has a reduced amount. I think both loaves taste great and they don't have a sour taste. Since this bread is made with few ingredients and no additives, it hardens a little when it cools down, toast it or heat it up a little before consuming.
White Bread
Yield: 900g, 1 loaf
Ingredients
Water – 330 g
Instant yeast – 2 teaspoons
Bread flour – 600 g
White sugar – 30 g
Salt – 2 teaspoons (or only 1 teaspoon)
White vinegar – 1 ~ 2 teaspoons
Butter – 30 g, cut into small pieces
2lb Pullman loaf pan with lid – 1
Steps
1) Except butter, add all other ingredients in the order listed into the mixing bowl of the stand mixer with a dough hook. Mix with low speed first then switch to higher speed when the ingredients are combined and won't fling out of the bowl.
2) Once the ingredients pull together into a dough, add the small pieces of butter. Mix on medium speed (please refer to stand mixer's manual for the appropriate speed) for 10 – 15 minutes until done. The dough will be slightly sticky because it has low oil content. It doesn't look very smooth and shiny but it can be easily stretched out to a very thin layer before it ruptures.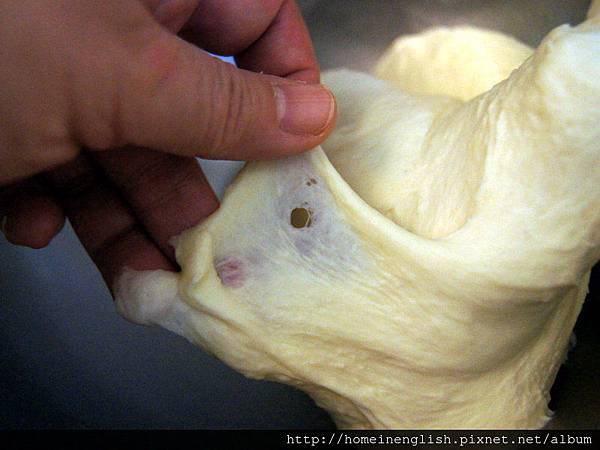 3) The temperature of the finished dough should be between 26 ~ 28°C (78.8 ~ 82.4°F). The dough feels cool to touch. It is important to adjust the temperature of the water used according to the season. Room temperature water is suitable for spring, fall, and winter. Use ice water during the summer months. A little bit of ice can really help to keep the dough temperature down while mixing.
4) Cover the bowl. Let the dough rise at 20°C (68°F) for 3 hours. Low temperature rise produces a finer bread texture. However, the usual 28°C (82.4°F) rise for 1.5 hours is OK.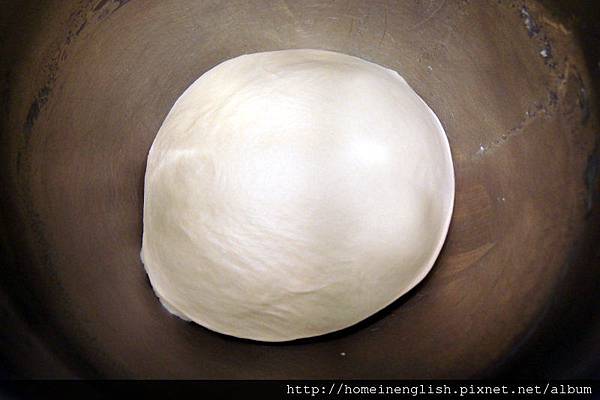 5) Press the dough lightly. The dent should not spring back.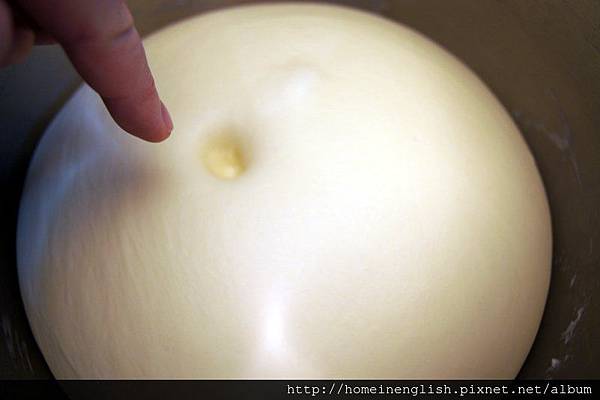 6) Refer to recipe #136 Milk-Flavored White Bread (steps 4 – 7) for shaping, final rise, and baking (200°C, bottom of the oven for 45 minutes), and cooling procedures.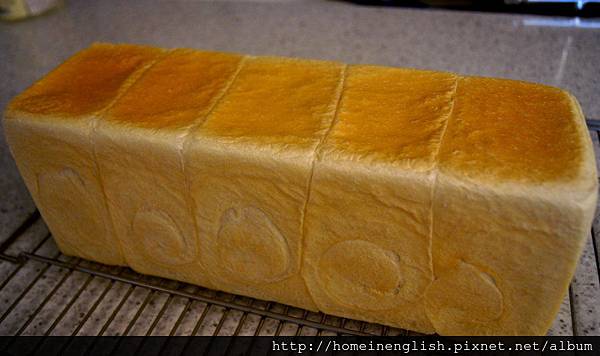 ~~~~~~~~~~~~~~~~~~~~~~~~~~~~~~~~~~~~~~~
Yogurt-Based White Bread
Yield: 900g, 1 loaf
Ingredients
Water – 185 g
Sugarless non-fat yogurt – 170 g
Instant Yeast – 2 teaspoons
Bread flour – 585 g
White sugar – 30 g
Salt – 1.5 teaspoons
Butter – 30 g, cut into small pieces
The steps are the same as making the white bread loaf. The chewiness of the milk-flavored bread is always slightly less than the loaf without. It has a softer chew.
I divided into 5 portions and rounded each one. Place all 5 into the loaf pan. The loaf is baked without the lid on. The temperature is 175°C for 35 minutes with the lower coil on only.