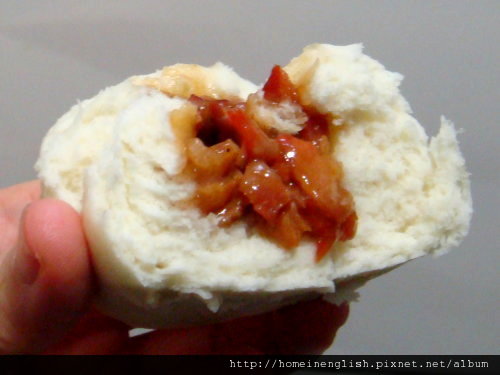 BBQ Pork Buns
Yield: 15
The soft, fluffy, and sweet BBQ pork bun is yet another delicious dim sum dish. Compare to baozi, BBQ pork bun contains more sugar, so it is not suitable to be served as a main course but more like a side dish for light tasting.
Ingredients
Starter dough (1 portion): see note 1
Water – 125 g
Sugar – ½ tablespoon
Instant dry yeast – ½ tablespoon
Cake flour – 225 g
Sweet fermented dough: see notes 1 and 2
Starter dough – 1 portion
Cake flour – 225 g
Powdered (confectioners' or icing) sugar – 125 g
Baking powder – 2 teaspoons
Lard or shortening – 60 g
Water – 40 ~ 50 g
BBQ Pork Filling:
Green onion and ginger juice – 150 g (see note 3)
Sugar, oyster sauce, sesame seed oil – 1 tablespoon each
White pepper – a pinch
Corn starch – 2 tablespoons
BBQ pork – 300 g (see note 4)
Steps
1) Combine all ingredients from starter dough in a bowl and knead into a dough. Cover and let it rise overnight. If the weather is really warm, a few hours of rising should be enough then refrigerate.
2) Pictures below show before and after rising. The starter dough after overnight of rising looks wet and pasty with a strong alcohol aroma.
3) Combine green onion/ginger juice, condiments, and corn starch in a saucepan. Cook and stir the mixture constantly until it thickens. Turn the heat off.
4) Cut the BBQ pork into 1 cm thin strips then cut the strips into small dices on a bias. Whisk them into the thickened sauce. Refrigerate until ready to use.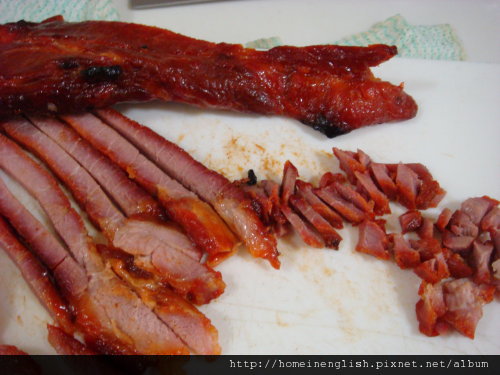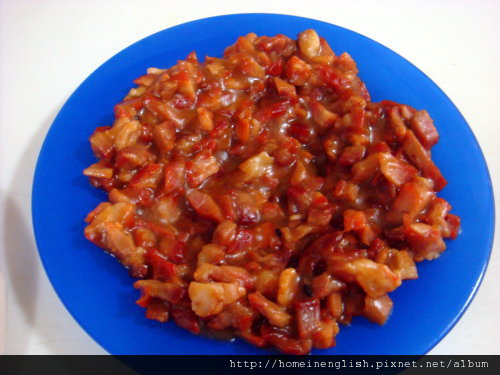 5) Make the sweet fermented dough: sift powdered sugar and corn starch together to remove lumps. Add the starter dough to all the ingredients of the sweet fermented dough. Combine everything and knead into a soft dough. Important to note: the amount of water needed to make the sweet fermented dough must account for how moist the starter dough is.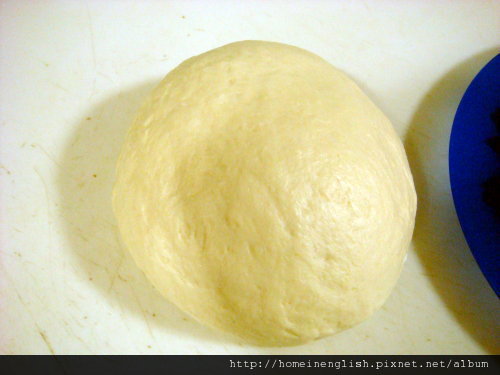 6) Divide the sweet fermented dough into 15 portions (~35 g each). Round out the dough on the bench.
7) Flatten the dough, add the filling (~33 g). Push the edge of the dough up to close tightly. There is no need to make folds like making baozi. It is even OK to have a thick layer of dough on the top because it will split open or bloom while the buns are steamed (see note 5).
8) Place the buns in the steam baskets lined with steaming paper. Let them rise again in a warm place for 30 minutes.
9) Let the water in the steamer boil first then steam the BBQ pork buns with medium high heat for 12 minutes.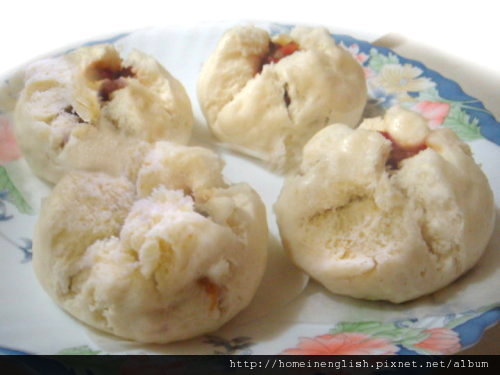 Note 1: if you wish to have a brighter, whiter steamed roll and baozi, replace water with milk, sugarless soy milk, a little bit of cream of tartar, or a little bit of lemon juice.
Note 2: remove the baking powder from the sweet fermented dough recipe to make sweet steam rolls.
Note 3: soak crushed green onion and ginger in water. The liquid will be the green onion/ginger juice. If you don't like the green onion and ginger flavors, use water instead.
Note 4: BBQ pork can be made at home. Cut the pork shoulder or pork loin into thick long strips. Marinate with Lee Kum Kee Chinese Barbecue Sauce or Char Siu Sauce (available in Asian supermarkets) overnight. Bake the marinated meat with high heat until done with slight burn marks. The BBQ pork's color will be deeper and richer if the meat is brushed a couple more times with additional sauce during baking.
Note 5: the selling features of the BBQ pork buns are its sweet dough and blooming top. To achieve them, it is best to use the starter dough. It is not possible to use the sweet dough directly not only because it does not ferment enough to produce enough CO2 but also the dough won't be as sweet since all the sugar will be consumed by the blooming yeasts.
It is also important to note that it is not necessary to fold the top to close like baozi. Folding creates this thick knot on the top which prevents the bloom that is commonly seen in BBQ pork buns (see picture below).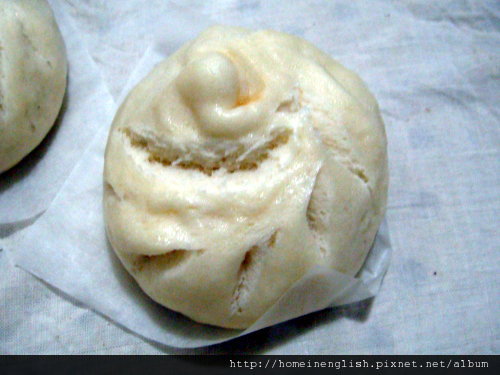 BBQ pork bun dough doesn't have to be thin with a bountiful filling like baozi. You want the dough to be fluffy and sweet. If the amount of the dough on the top of the bun is too thin, it also won't split.
Many people say that BBQ pork buns should not go through a second rise right before steaming but I found that it really doesn't make a difference. The amount of bloom is about the same regardless of a final rise or not. The BBQ pork buns are actually larger and fluffier if they had a second rise before steaming.
~~~~~~~~~~~~~~~~~~~~~~~~~~~~~~~~~~~~~~~~
Sweet Coconut Salty Egg Custard Buns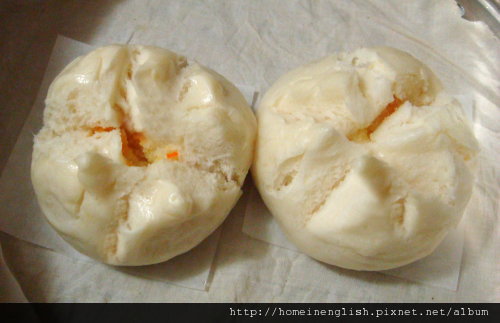 Ingredients
Raw salted duck egg yolks – 150 g (~9 egg yolks)
Condensed milk – 200 g
Coconut powder – 150 g
Steps
Make the filling: chop up the raw salted duck yolks then combine with condensed milk and coconut powder. Divide into 15 portions (~33 g). Use the dough recipe from the BBQ pork buns.
There is quite a lot of filling per bun, so the dough is not as thick as the BBQ pork bun which affects the split on the top of the bun. You can put less filling per bun if you want to achieve more bloom on the bun.