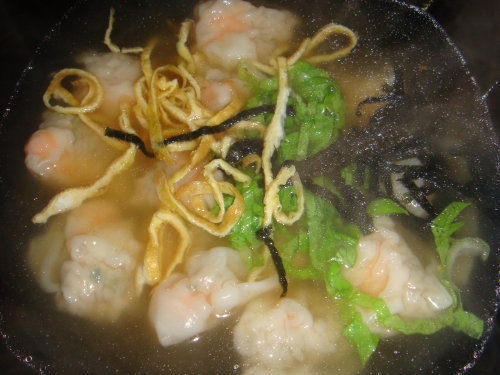 Normally, Wonton is made with dough, stuffing and soup. Please read recipe no.174 to learn how to make wonton dough or just buy it from shops. It's length is around 8.5 cm, weight 5g per wrapper.
The water which is used for boiling wonton or dumpling can't be used to cook the soup so you might need to prepare some stock. Put cooked wontons in the stock, then add some egg, vegetable and seaweed, then add some pepper powder and sesame oil for tasting. Serve it right away~!
Wonton wrapper is really thin and fancy. Normally it's served as dessert. You can add some noodles in to make wonton noodles if you wanna make it as a meal.
You can freeze wontons if you can't eat them all at once. Just be aware that the frozen wrapper is delicate.
~~~~~~~~~~~~~~~~~~~~~~~~~~~~~~~
Basic Wonton ingredients
Pork wonton (about 80 wontons)
Ingredients:
Minced Pork shoulder chop 600g
Spring onion few stalks
Salt 1 tsp.
Sugar 1 tsp.
White pepper powder few
Wonton wrapper 80 pieces (approximate 400g)
Steps:
1. Chill pork mince until it's really cold. Finely chop the spring onion.
2. Stir mince and all seasoning really hard till the mixture stick together.
3. Add chopped spring onion and mix well.
4. Put approximate 8g of stuffing in each wrapper, use some water to seal it.
5. Boil half pot of water, put wontons in and cook for 2~3 mins. Don't cook too long! Serve it while it's hot.
Vege and pork wonton
Steps:
1. Chop 300g vegetable (normally Chinese cabbage), mix with half teaspoon of salt, leave it for a while.
2. Drain the water out. It will have only approximate 200g left.
3. Mix it with the Pork mince stuffing(shown above) well.
4. Put 8g of stuffing in each wrapper, make approximate 100 wontons.
Shrimp Wonton
Steps:
1. 600g of shrimp. Don't wash it. Use paper towel to dry it. If it's frozen, unfreeze then dry.
2. Cut into 100 pieces, approximate 6g each piece (ie. the shrimp shown below is quite big, so I cut it into 4 pieces. No need to cut if it is small.)
3. Put 1 piece of shrimp and 6g of pork mince stuffing in each wrapper. Totally is 12g. Need to wrap it in 'Pillow-shaped wrapping' way.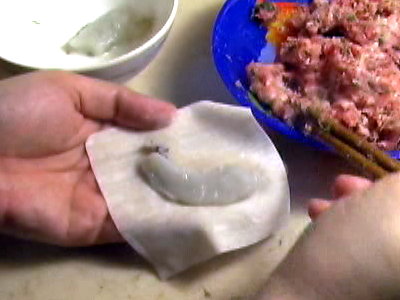 The picture shown below is Vege and Pork won ton plus shrimp. It's really colourful and tasty. Actually, any kind of stuff is good with wonton. But just DON'T put fat inside!! The dough of wonton is quite soft already. It would be so fatty if it had some soft stuffing, or even if you cooked the dough too soft as well.... wow, that's quite terrifying...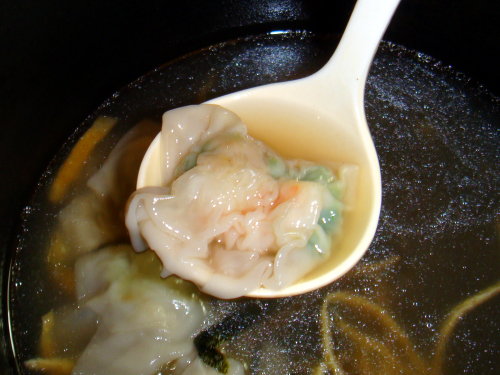 ~~~~~~~~~~~~~~~~~~~~~~~~~~~~~~~
Wrapping wontons
"Nurse-Hat-Shaped Wrapping"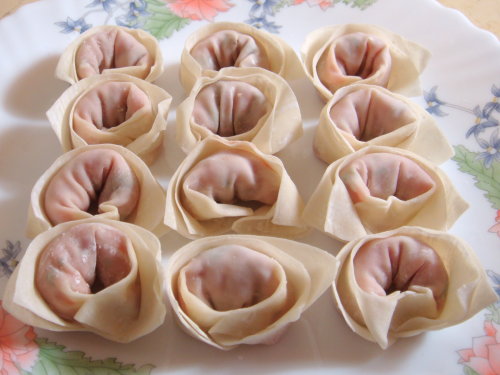 1. Put 8g of stuffing in the middle of wrapper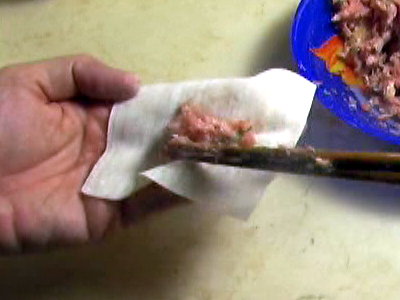 2. Fold the wrapper in half, and fold it again.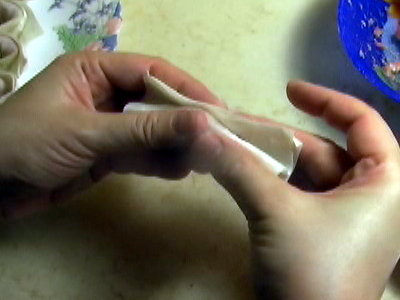 3. Pull the two ends and press firmly, use some water to seal.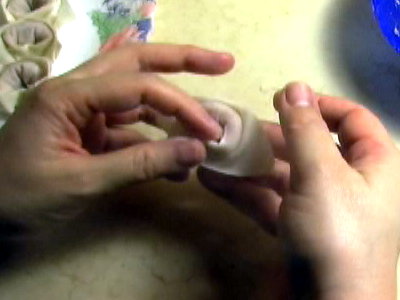 Wontons which are wrapped in this way can not only be boiled but also deep fried, very delicious!!!