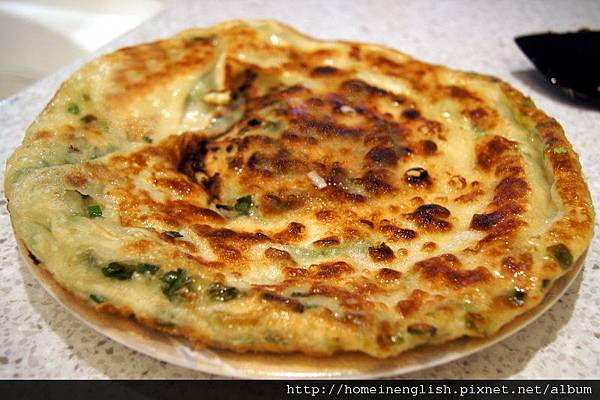 Make 10 pancakes
Scallion pancake is an extremely popular snack food in Taiwan. It's considered as important as "Langos" for Czechs. The most special ingredient is the boiling water which gives the pancake an excellent texture with both crispy and soft taste.
Ingredients
200g scallion (spring onion), finely chopped
1/2 teaspoon salt
400g all purpose flour (polohruba mouka)
1/2 teaspoon salt
220g boiling water (must be boiling!)
100g cold water
Steps
1) Mix scallion and salt, then set aside.
2) Place flour and salt in a bowl. Tip in all of the boiling water and stir with chopsticks (or a folk) until it's not so hot.
3) Add cold water in the same bowl, stir well. Put some cooking oil over your hands, then hand-knead the dough until it's even and soft.
4) Pour some cooking oil on a clean work surface and spread it out with your hands.
5) Place the dough on the surface. Rub some more oil on the dough and fold the dough over and over. Keep adding oil on the dough when it's sticky. Keep folding until the dough is just slightly sticky.
6) Roll the dough in rectangle and flat shape, sprinkle all scallion on it, then roll it into long shape like Swiss rolls. Divide into ten portions and roll them into round shape.
7) Set aside all doughs on the oily working surface for at least 20 minutes for better result.
8) Grease the frying pan with sufficient cooking oil. Roll the dough into 16 cm diameter round.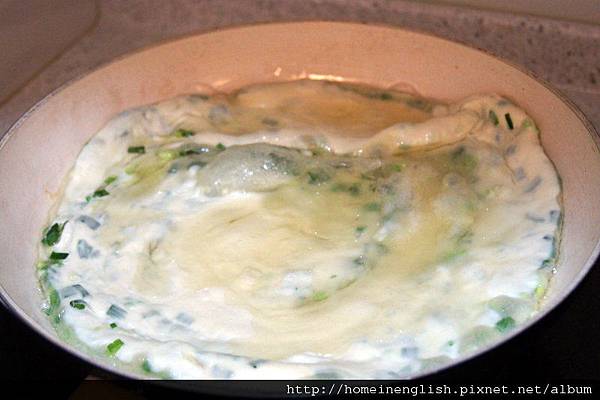 9) Fry with medium heat until both sides are golden crispy. Serve hot.