Cake
Ingredients:
A:
6 yolks
60g sugar
140g milk
120 cake flour
3 1/2 tablespoon unsweetened cocoa powder
B:
6 egg white
120g sugar
Directions:
1) Prepare a 10 inch springform cake pan. Preheat oven to 180C (= 356F).
2) Combine yolk and sugar in a large bowl; stir until well blended.
3) Add milk; stir well.
4) Add flour and cocoa powder; stir slightly until well blended.
5) Beat whites until they just hold soft peaks. Add sugar, a little at a time, continuing to beat until stiff peaks form.
6) Stir yolk mixture into whites until well blended.
7) Pour batter into prepared pan. Lightly tap the pan on the working surface to knock out air bubbles.
8) Bake on the bottom layer of the oven for 40 minutes or until the center is springy and rebounds when touched gently.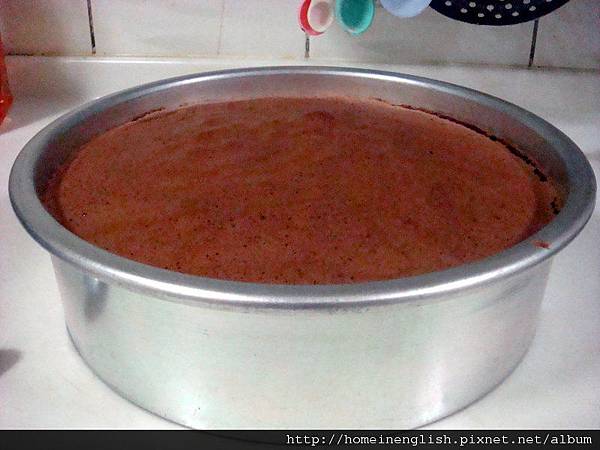 9) Turn the cake pan upside down until cool.
10)Remove the cake. Split it horizontally in half.
Chocolate and Mousse
Ingredients:
C:
300g bittersweet chocolate
150g milk
D:
400g strawberry
40g sugar
1/2 cup water
7 gelatin sheets or 17.5g gelatin powder
2 cup whipped cream
Directions:
1) Chop the chocolate. Add milk and melt the chocolate in a double boiler, or a bowl over simmering water. Stir until the chocolate melted completely.
2) Place a piece of plastic wrap on the bottom of the cake pan. Pour the chocolate into the pan. Freeze and form it in the refrigerator.
3) Puree the strawberries. Add sugar and stir well.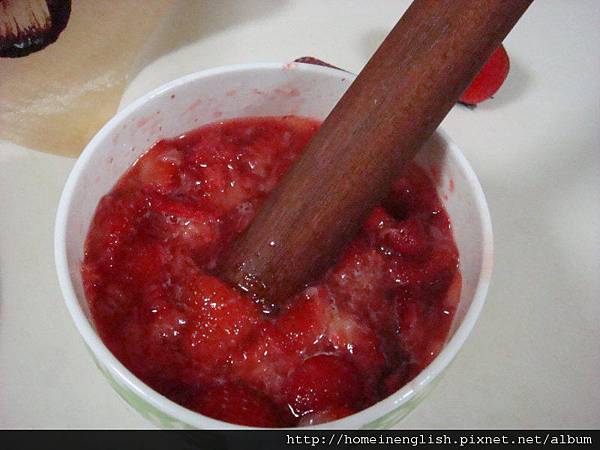 4) Bring the water to a boil; turn off the heat. Add gelatin and stir until melted completely. Add strawberry puree. Cool it until warm.
5) Beat the whipped cream until soft peaks form. Add the strawberry mixture to become strawberry mousse.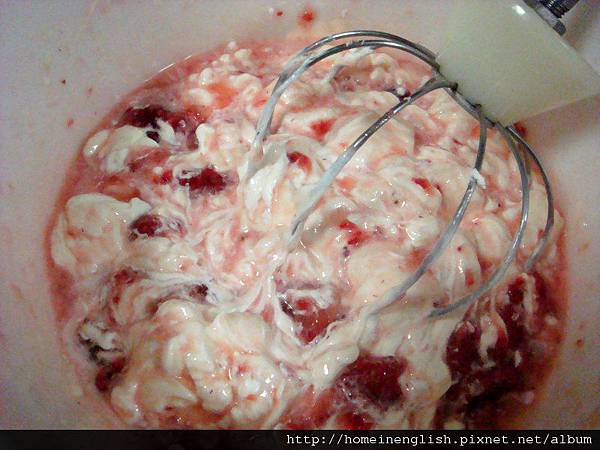 6) Decorate the cake before it solidified. Place one cake layer on cake plate; spread with the strawberry mousse.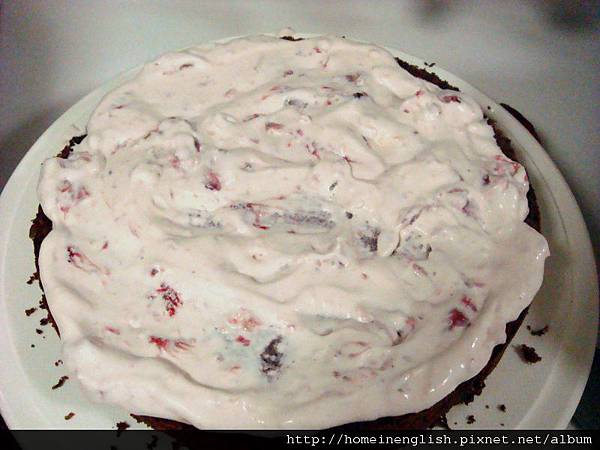 7) Remove the chocolate from the refrigerator. Place the chocolate on top of the mousse with the side without the plastic wrap down.
8) Remove the plastic wrap from the chocolate.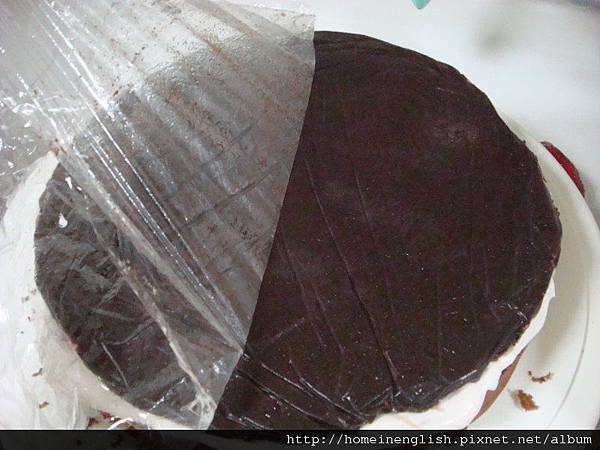 9) Spread with the strawberry mousse again. Top with the other layer. Press slightly.
10)Decorate the cake with the mousse left and some fruits.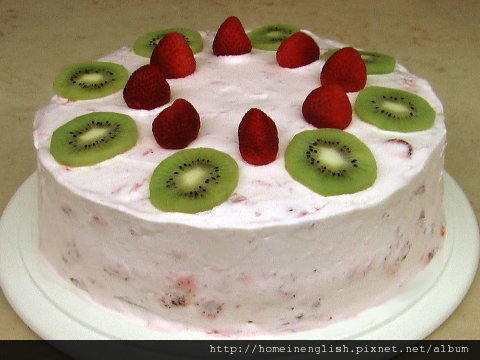 Note:
Use the rolling pin to puree the strawberries. Do not use blender or food processor or the puree will be too smooth.
Add 40~20g sugar per cup if using unsweetened whipped cream, i.e. add 80~40g sugar in this recipe.