Yield: 20
Ingredients
Filling:
Dried Shitake mushrooms – 10
Ground pork shoulder – 600 g (see note 1)
Preserved bamboo shoot – 200 g (see note 2)
Marinate for ground pork:
Soy sauce – 2½ tablespoons
Sugar – 2 teaspoons
Black pepper (or white) – ½ teaspoon
Tai bi powder – 1 tablespoon
Wrapper:
Sweet potato powder – 600 g (see note 3)
Cold water – 500 g
Boiling water – 500 g
Sauce:
Sweet spicy sauce or garlic soy sauce – to taste (see note 4)
20 small shallow dishes (porcelain or metal) – smear some veggie oil to coat dish surface
Steps:
1) Soak the dried mushrooms until softened then cut into halves or small dices. Marinate the meat with the condiments then whisk the mixture clockwise quickly and forcibly until it turns into a sticky paste. This mixing technique ensures the meat develops elasticity. Add the mushrooms so they can absorb some flavors from the meat.
2) Taste the preserved bamboo shoots. If they are too salty, soak them in water to remove excess salt. Squeeze them dry then cut into small stick sized pieces.
3) Add cold water to the sweet potato powder and whisk. Add the boiling water quickly and whisk feverishly until it turns into a very thick and sticky paste. The boiling water must reach the boiling state to be hot enough to dissolve the sweet potato powder.
4) Take one of the shallow dishes coated with oil, drop a dollop of sweet potato paste then smear it evenly to cover the dish. Add bamboo shoots, then a dollop of ground pork, followed by half of a mushroom.
5) Add more sweet potato paste on top of the pork and spread it around to close off the top. See the picture below.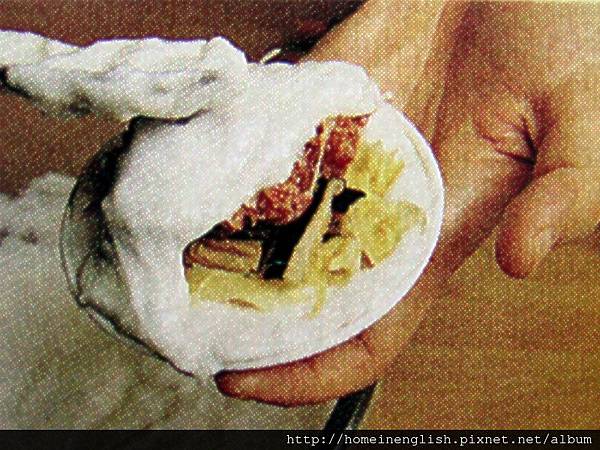 6) Boil the water in the steamer and steam the ba wan in the dishes for 10 minutes.
7) Use the kitchen scissors to snip open the top of the ba wan then drizzle the sweet spicy sauce or garlic soy sauce before enjoying this delicious treat! Ba wan can be re-steamed after they have cooled. They can also be fried lightly.
Note 1:
Ground pork can be substituted with thinly sliced pork to get more chewing texture.
Note 2:
Preserved bamboo shoots can be found in Asian supermarkets.
Note 3:
The wrapper doesn't have to be made with 100% sweet potato powder. Any combination of sweet potato and indica rice powder will be fine for making ba wan. It all depends on what kind of wrapper texture you enjoy. I typically use 10% indica rice powder and 90% sweet potato powder. One thing worth noting is that ba wan wrapper should NEVER be crisp! It should be chewy but not crisp at all. Crisp ba wan means borax has been added to achieve that texture. Borax is a known carcinogen, so be aware!
Note 4:
Sweet spicy sauce should be sweet and spicy, not with a sour taste to it.