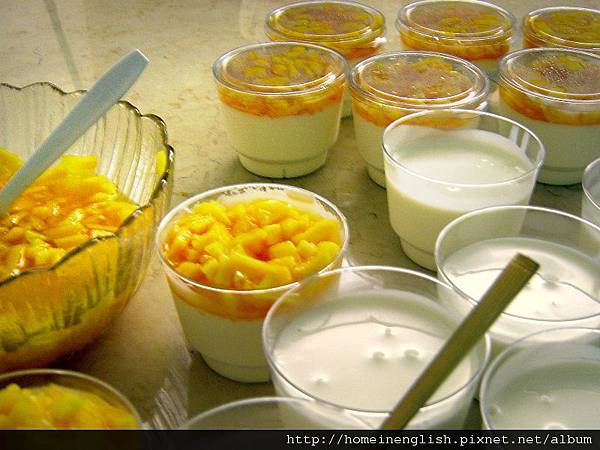 Yield: 12 cups
An easy refreshing summer dessert. Traditional panna cotta is made with rennet (used to make cheese). This recipe uses Gelatin.
Ingredients
Milk – 6 cups (or 2 cups of heavy cream + 4 cups of milk for a richer flavor)
Unflavored gelatin – 22.5 g
Sugar – 3 tablespoons
Mango – 2
Sugar – 5 tablespoons
Steps
1) Pour 4 cups of milk into a bowl and stir in gelatin powder. Set aside.
2) Heat up 2 cups of milk until it almost boils. Turn the heat off. Add 3 tablespoons of sugar and mix well.
3) Add 4 cups of milk/gelatin from step 1 into the mixture from step 2. Mix well and pour into little cups. Refrigerate until the panna cotta sets.
4) Cut the mango into small dices and mix with 2 tablespoons of sugar. Refrigerate.
5) Once the panna cotta is firm, serve with mango pieces on top.