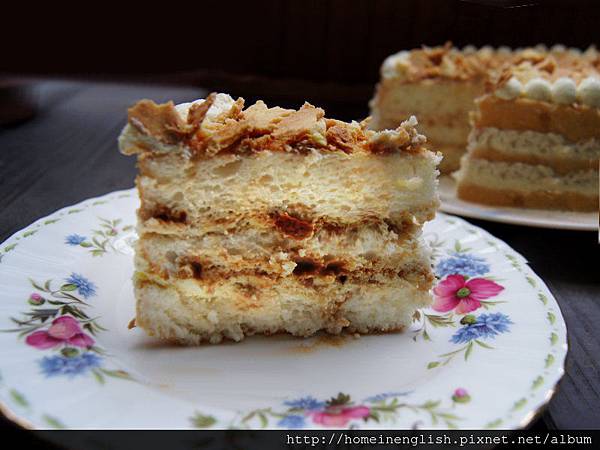 It must have been last year or the year before when my friend, who lives in the US, introduced this extremely popular Tres Leche cake to me. It is made with sliced butter (or oil) cake, which is then brushed with generous amounts of three milks – whipped cream, condensed milk, and evaporated milk.
I tested this recipe myself. I thought it was a little sweet, but it was full of the milky richness and moist. It tastes much better than other American cakes that are superficially pretty but lack taste.
Afterward I looked up many recipes and information on the web. I found a large variety of different recipes for Tres Leche cakes. So I boldly tested a few of my own variations of the recipes.
In terms of the cake body, my favorite remains cakes made with separately whipped egg yolks and whites. I like it much more than butter cakes and cakes made with whipped whole eggs – I can't help it; I'm Taiwanese after all. In terms of the combination of three milks, my favorite is from an American cake shop, which used coconut milk, dulce de leche, and Bavarian cream. This shop even included a short bread base under the cake. The taste of the moist cake with the short bread base was excellent.
Of course I didn't know the exact recipe of this cake. The following recipe was written based on my own testing. Last night a group of friends celebrated the New Year's Eve at my house, and I served this cake for dessert. It was liked by everyone. But last night I used an angel food cake as the cake body – I really love angel food cake. I happened to have a lot of egg whites left and this helped me finish using them.
When I make many cakes or mousse cakes that require a short bread base, I often arbitrarily make the short bread into crumbs to be sprinkled onto of the cakes. This has two advantages: first, it is easy to cut the cake without crumbling the short bread base; secondly, the short bread can be sprinkled right before serving. Its fragrance and crispness can be guaranteed. If it is used as a base, it becomes wet and soft after the cake has been refrigerated for a long time and is no longer crispy.
I have already reduced the sweetness of the following recipe. But dulce de leche is inherently quite sweet. Omitting it would make the cake with one less milk. In any case, this cake is not suitable for people who are afraid of very sweet desserts.
A. Angel food cake 9 inch, 1 cake
Ingredients:
Egg white 264 g (8 egg whites)
Cream of tartar 1/4 tsp
Salt 1/4 tsp
Granulated sugar 132 g
Milk 120 g
Cake flour 132 g
Steps:
1) Preheat the oven to 165C (329F).
2) Beat the egg whites with cream of tartar. Add in the sugar and salt gradually in several steps. Beat until the egg white to soft peak (close to stiff peak but the peak can droop at little).
3) Add the milk and mix a little.
4) Sift the flour into the mixture and gently fold it in.
5) Use a rubber spatula to lift the mixture from the bottom to make sure no liquid is separated on the bottom. Scrape this mixture into a 9-inch spring-form pan.
6) Knock the cake pan on the counter to remove large air bubbles.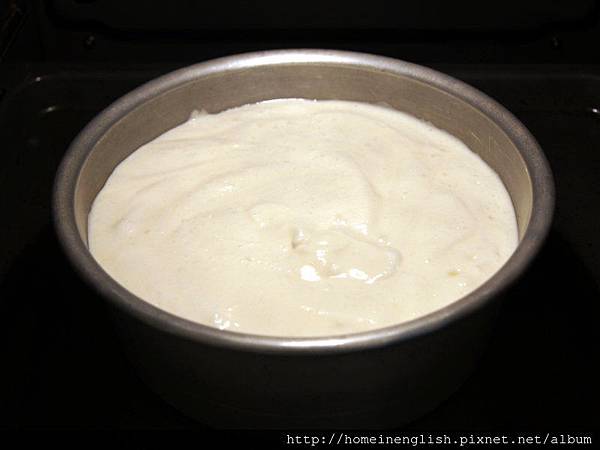 7) Bake on the lowest level in the oven for 40 minutes. It is done when the cake doesn't feel liquidy when lightly touched by your finger.
8) Remove the pan from the oven and invert to cool completely.
9) Run a knife along the side of the pan. Remove the cake pan bottom and run a knife between the cake and the bottom pan to free the cake.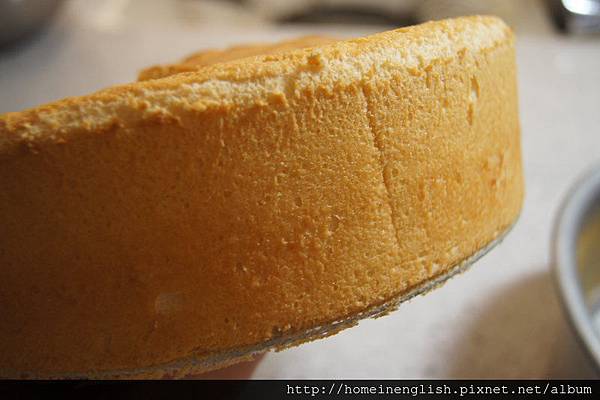 ~~~~~~~~~~~~~~~~~~~~~~~~~~~~~~~~~~
B. Short bread crumbs
Ingredients
Butter (softened at room temperature) 20 g
Sugar 20 g
Salt 1/8 tsp
Egg (mostly egg yolk) 25 g
Cake flour 60 g
Baking powder 1/8 tsp
Steps:
1) Beat butter with sugar and salt until evenly mixed. Add the egg and quickly beat until mixed well.
2) Sift flour and baking powder into the mixture. Mix well.
3) Scrape the mixture onto a silpat or parchment paper and smear it into a thin sheet. It is fine if it is not evenly distributed.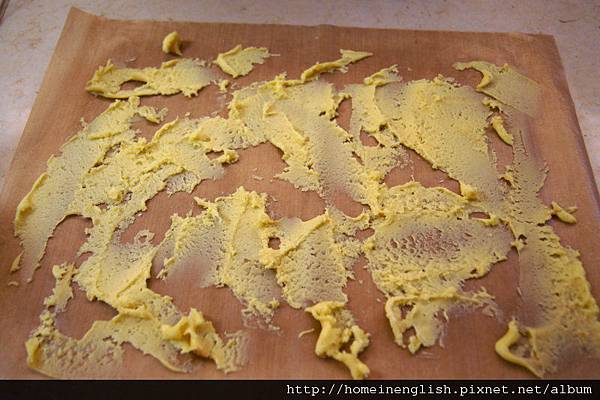 4) Place the baking sheet into a 165C (329F) oven on the upper third level. Bake for about 10 minutes until golden brown and fragrant and crispy. You can move the pieces several times during baking and move the less colored pieces toward the edges.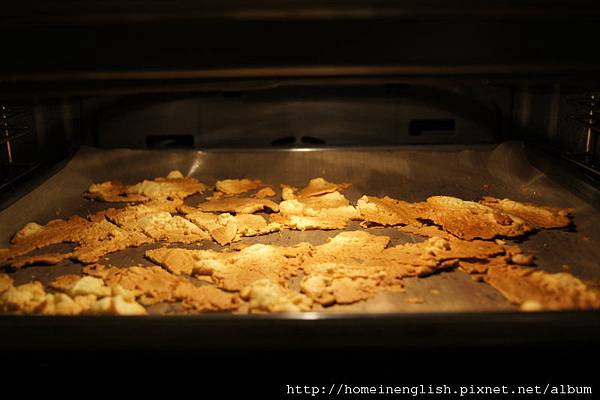 5) Cool the pieces after baking. Press them into 1cm pieces. Keep in an air-tight container.
~~~~~~~~~~~~~~~~~~~~~~~~~~~~~~~~~~
C. Make dulce de leche
Ingredients:
Cold water 60 g
Milk powder or goat milk powder 60 g
Granulated sugar 120 g
Boiling water 120 g
Steps:
1) Place cold water, milk powder, and sugar into a non-stick pan. Stir until well mixed.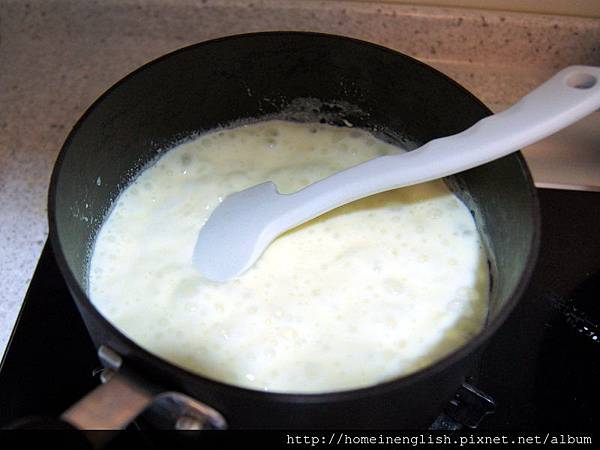 2) Over low-medium flame cook this mixture until the water evaporates. This can be easily burned and you must stir continuously.
3) Continue to cook until its color is brown like toffee, about 10 minutes.
4) Add boiling water slowly. Stir continuously while adding the water.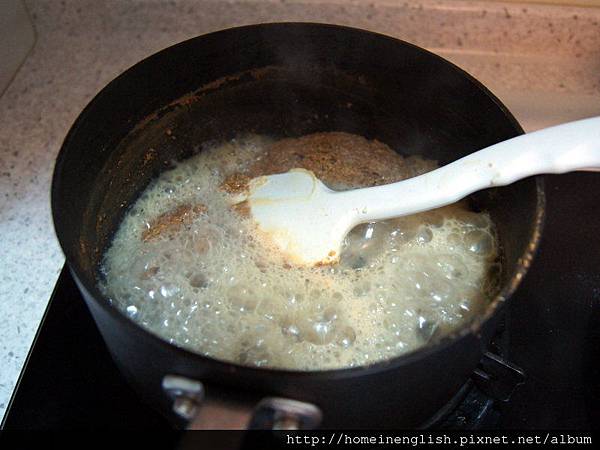 5) The mixture can easily solidify into pieces separate from the liquid after water is added. If the sugar pieces are still not dissolved when it is almost cooled, use a food processor to make it into an even mixture.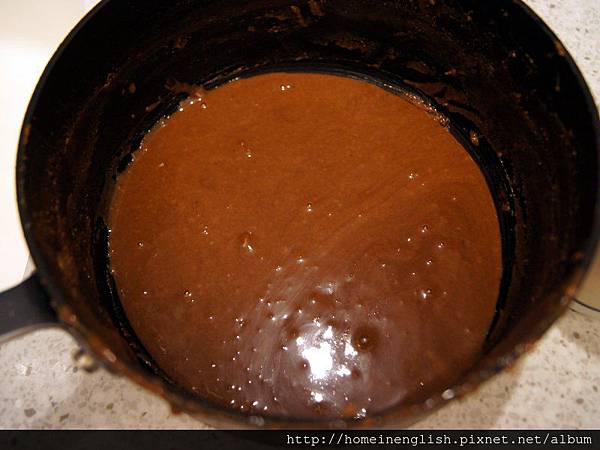 Note:
Reportedly, dulce de leche was made by cooking goat milk with sugar until caramelization. But this starts with a lot of water, and requires an extremely long cooking time.
~~~~~~~~~~~~~~~~~~~~~~~~~~~~~~~~~~
D. Make coconut milk, whip Bavarian cream
Ingredients:
Coconut milk powder 1 package (50 g)
Drinkable cold water 70 g
Sugarless heavy cream 300 g
Custard powder 15 g
Steps:
1) Mix coconut milk powder and water until dissolved. This is coconut milk.
2) Whip heavy cream with custard powder until thick – this is Bavarian cream. Do not whip it to too stiff of a stage. It will be too difficult to spread.
Note:
It may be very difficult to control the heat if making Bavarian from scratch. It is easier to use custard powder.
~~~~~~~~~~~~~~~~~~~~~~~~~~~~~~~~~~
E. Assembly
1) Separate the cake into 3 horizontal pieces.
2) Place the first piece into the cake pan. Brush it with 1/3 of the coconut milk.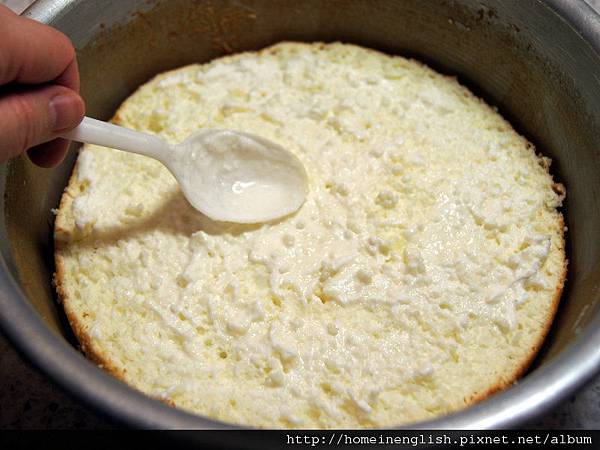 3) Spread 1/3 of the dulce de leche.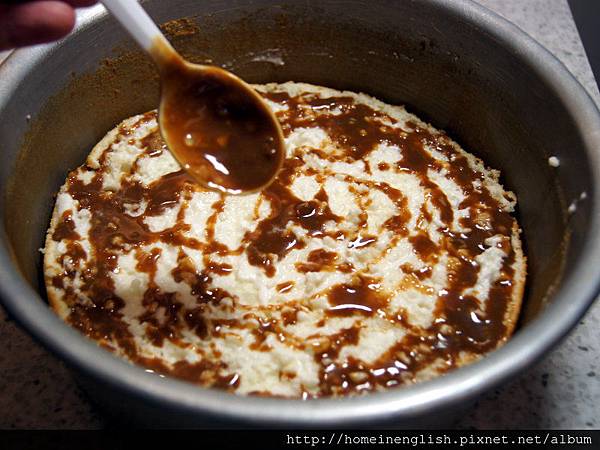 4) Spread 1/3 of the Bavarian cream. This now has three milks.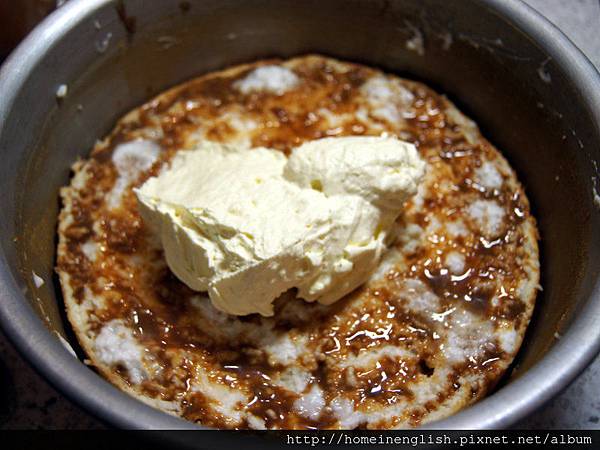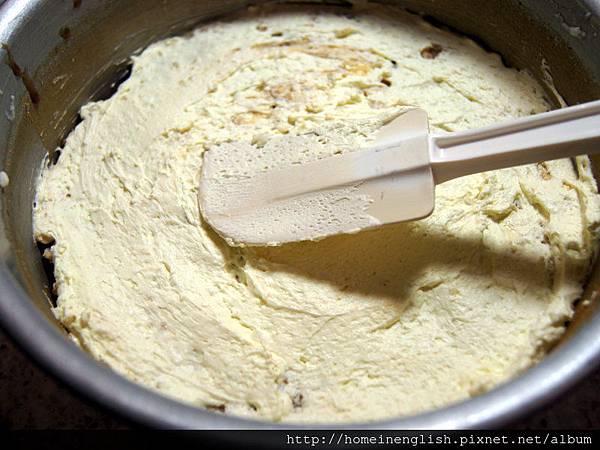 5) Cover with the second piece of cake. Repeat spreading of the three milks.
6) Cover with the third piece. Invert the cake onto a platter.
7) Spread three milks on the top. (Yesterday I was serving this cake to guests. So I placed the Bavarian cream as decorative frosting around the rim and left the side of the cake plain.)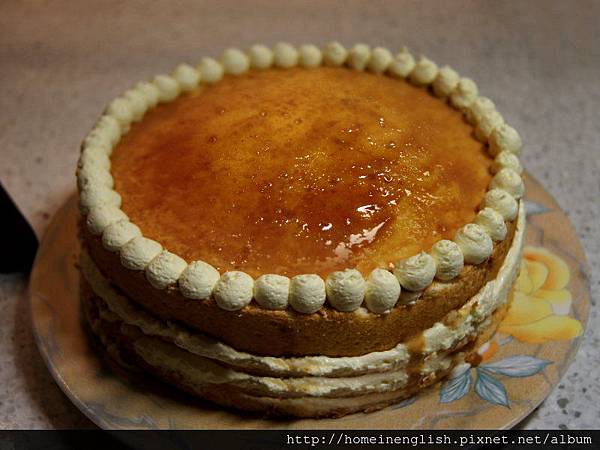 8) Refrigerate the cake. Sprinkle the short bread crumbs over the top before serving.