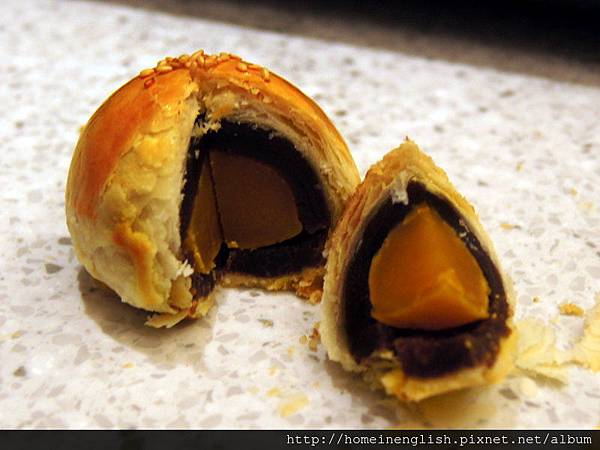 Shortcrust flaky pastry typically requires using fat that is solid at room temperature: butter, clarified butter, margarine, lard, vegetable shortening, or butter flavored vegetable shortening.
Which fat to use? Please consider the following:
Flavor: butter flavored shortening has an artificial flavor which overwhelms the natural flavor of other ingredients. This is not the best choice. Unflavored shortening or lard is better for making plain or colored taro or mung bean pastries.
Flakiness: butter and margarine do not produce the flakiest pastries because both contain water, therefore, not 100% solid fat.
Health consideration: butter, margarine, and lard contain cholesterol. Margarine and shortening don't have cholesterol but are made with hydrogenated vegetable oil. There is no clear winner in this category. Moderate consumption of these pastries satisfies cravings and yet not harmful to one's health.
Ease of use: each type of fat has different melting point. Butter, margarine, and lard's low melting point makes them very soft at room temperature. Clarified butter has slightly higher melting point, so it is slightly harder at room temperature. Vegetable shortening (unflavored or flavored) is much harder than other fats at room temperature because it has the highest melting point. When the weather is warm, shortening is a clear favor. Likewise, when the weather is cold, dough made with butter or lard will have the right consistency.
Ingredients
Yield: 48
Filling: both ingredients are found in Asian supermarkets
Black sweet bean paste – 1200 g
Raw salted duck egg yolks – 48
Shortcrust pastry dough (see Note 1):
All purpose flour – 500 g
Shortening or lard – 180 g
Water – 230 g
Salt – ¼ teaspoon
Sugar – 1 tablespoon
Flaky pastry dough:
Cake flour – 320 g
Shortening or lard – 160 g
Egg wash – 1 egg yolk plus 1 teaspoon of water. Add a little bit of soy sauce to add color.
Sesame (white or black)
Steps
1) Make the filling: preheat the oven to 150°C. Use Chinese cooking wine to clean the raw salted duck egg yolks. Place them on a baking sheet lined with parchment paper, bake for 5 – 10 minutes until the yolks are aromatic. Do not over bake the yolks that they turn white or become oily. (Skip this step if cooked salted duck egg yolks are available.)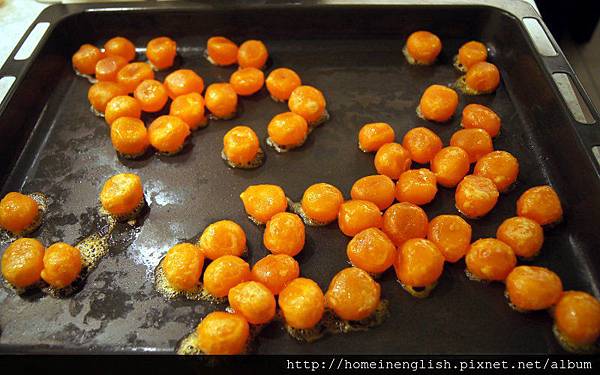 2) Divide the black sweet bean paste into 48 portions. Mold the bean paste around one egg yolk.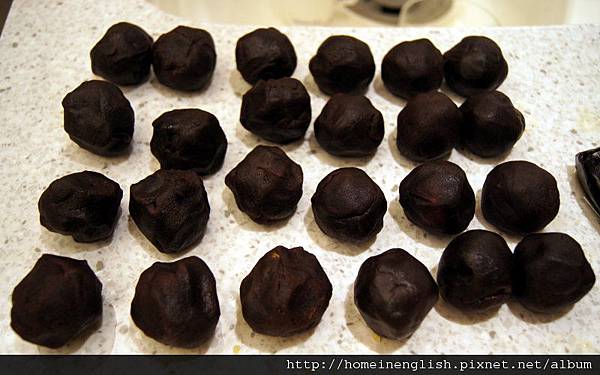 3) Make the shortcrust pastry dough: combine all the dough ingredients together until it becomes smooth and soft. Divide it into 48 portions.
4) Make the flaky pastry dough: combine all the dough ingredients together until it comes together. Divide it into 48 portions. DO NOT over mix this dough. Over kneading it by hand or with a machine will turn it into a sticky messy paste (dough warms up and melts the fat). Just combine everything together into loose sand stage then press the loose pieces into one solid mass. If it turned into a paste, refrigerate until it hardens.
5) Watch the video to learn the final steps of putting the pastry together. http://homeeconomics.pixnet.net/blog/post/78659954
6) Place the pastries on the lined baking sheet. Brush the top with egg wash.
7) Let the first coat of egg wash dry. Brush on a second coat of egg wash and sprinkle some sesame seeds on the top before the egg wash dries.
8) Preheat the oven to 180°C. Bake on the middle rack for 30 minutes. See note 2.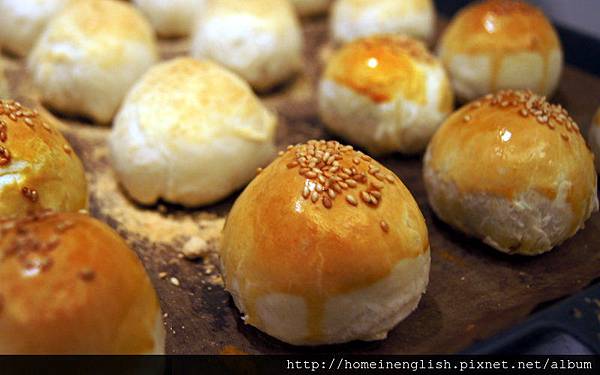 Note 1:
shortcrust pastry dough contains a large amount of fat but is unable to emulsify with water because it lacks eggs acting as the emulsifier. Fat and water will separate if the dough is left to sit overnight. The bottom of the dough will have a puddle of oil.
Shortcrust pastry dough also dries out very easily. Using dried out shortcrust pastry dough will cause fish-scale like cracks on the surface of the baked pastry. It is important to cover the shortcrust pastry dough with a piece of plastic wrap if you work slowly. Take one portion out of the wrapper at a time and keep the rest covered.
Note 2: good ingredients, correct recipe, and proper technique all contribute to the makings of a successful and flavorful shortcrust flaky pastry. One other important factor is baking time. The dough must be baked through, so baking time should not be shortened. If the pastry has not obtained the desired color in the allotted time, decrease the oven temperature and continue to bake.
Bake the pastries in 3 batches. 16 at a time and allow enough space between each one on the baking sheet. It takes more time and electricity to bake in batches but each pastry will be baked to perfection with distinct layers showing in the dough. The inner most layer of the dough will be wetter than the rest because it is closest to the filling.