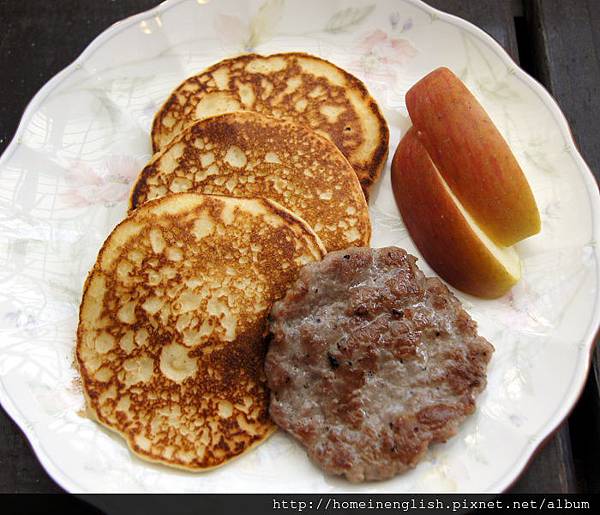 I had this strange craving for MacDonald's breakfast sausage McMuffin® and creamy corn soup lately! I didn't want to make a special trip to MacDonald's so I decided to make them myself since I have all the ingredients at home. I replaced the English muffin with a waffle or pancakes (see recipe 12 for the recipe or http://homeeconomics.pixnet.net/blog/post/66280761).
Sausage Patty
Yield: 24
Ingredients
Ground pork – 1200 g (2.65 lb.)
Salt – 2 teaspoons
Sugar – 2 tablespoons
Black pepper – to taste
Steps
Pat the ground pork down in a plastic bag. Freeze until it is half frozen. If you already have frozen ground pork, defrost until the meat is half frozen.

Cut the half frozen ground pork into 1 inch cubes, put them in the food processor, add salt, then process the pork into a paste.

Add sugar and black pepper and process until everything is well mixed. You may also add other species like cinnamon, sage, or clove.

Use an ice cream scope to scope out the pork paste (~ 50 g) then put it in a plastic bag (1 gallon size). One bag should comfortably hold 4 scopes.

Press each meat ball paste down into a flatten disc. Make each patty as thin and big as possible as it shrinks when it is cooked.

Freeze the patties. They can be pan fried or baked in the oven directly from the freezer.
Use low heat if you pan fry the patty or bake the patty for 5 minutes in a toaster oven. Don't forget to line the baking tray with foil so you don't have to scrub off the baked on grease later. If you are concerned with using aluminum foil, please pay fry the patties.
Taste test: flavorful with great texture!
Quick and Easy Creamy Corn Soup
Ingredients
Cream corn (418 g) – 1 can
Canned Corn kernels (311 g) – 1 can
Water – 2 cans
Milk – 1 can
Tai Bi powder (potato powder) – 2 tablespoons
Salt – ½ teaspoon
Black pepper – to taste
Egg – 1
Butter – to taste
Steps
Pour the corn kernels and cream corn into a soup pot. Fill two empty cans with water then add to the pot. Heat until the soup boils.

Pour the milk into an empty can until it is about 80% filled. Add Tai Bi powder, salt, and black pepper. Stir everything together until Tai Bi powder is well incorporated into the milk.

Add the milk mixture to the corn soup. Stir constantly until the soup boils again.

Scramble the egg in a bowl then add it slowly into the soup while stirring constantly. Scramble the egg well before adding it to the boiling soup to avoid getting big pieces of congealed egg white. Of course the soup is still perfectly fine with bigger pieces of egg white.
Turn the heat off. Add a small pad of butter before serving.
Please note that you can adjust the amount of species, milk, and butter to your liking. You can also add some sugar if you wish.
A lot of creamy corn soup in the restaurants is made with lots of water and Tai Bi powder without canned corn. A bowl of corn soup usually only has a few corn kernels.
Here is the meal I had been craving for: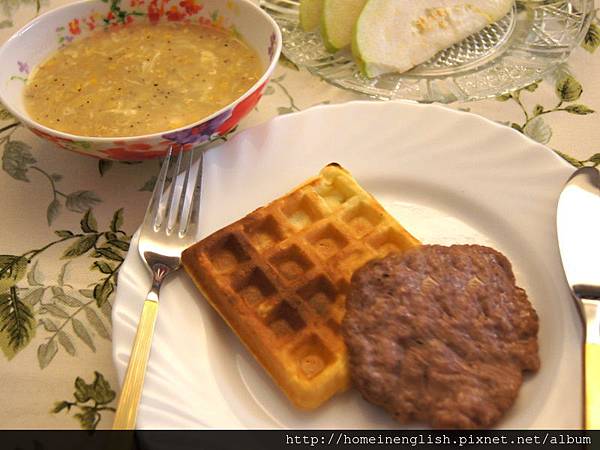 Sausage patty, waffle (without butter and maple syrup), guava, and a bowl of creamy corn soup. Healthy and nutritious!